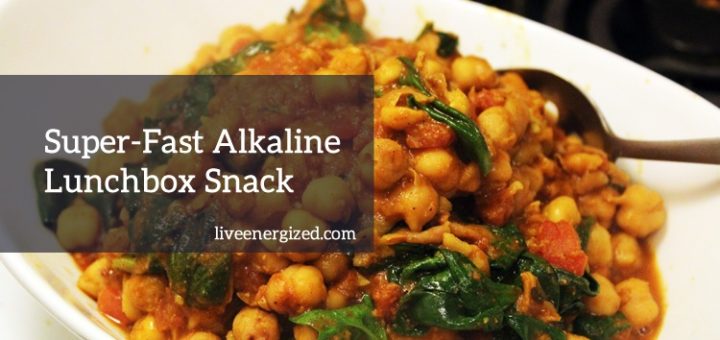 Hey everyone!
It's been a while since my last tip, but I tend to post them as I think of them, or as I invent them rather than trying to force the issue. It's just the way I work. As you know, I live the alkaline diet myself and am constantly learning and looking to improve my lifestyle so you get these alkaline diet tips as soon as I get them! This is 100% real, baby.
Anyway, I know personally that having tasty, filling alkaline snack recipes is a hurdle on the alkaline diet – and I know you guys feel the same, so I am hoping that this tip will help a lot of you out in your quest to reach your health goals.
The Super-Fast Alkaline Snack Recipe
So I've recently started working from a new super-cool office in the city, rather than from home, quite simply because I like to get out of the house and be around people. Plus, its a great way to get to know the city. But, the challenge this throws up is this:
If I am not working from home I need to be able to very quickly make lunch and 2-3 alkaline snacks to take with me
I know this is a similar situation a lot of you face.
I also have the following challenge:
I need to keep up my vegan protein intake on days I go to the gym
So I very quickly devised the following alkaline-rich, nutrient-dense, super-fast snack that I can take with me and it tastes great hot or cold!
Super Fast Alkaline Bean Snack
Here's the super-fast 80% alkaline version:
1/2 tin organic tomatoes or 4 fresh tomatoes
1 tin of any of the following: chickpeas/kidney beans/cannelini beans/butterbeans etc
4 broccoli florets
A LARGE handful of spinach
Himalayan Salt & Pepper
Plus any of the following:
Peas
Handful of kale
Parsley/Basil
Snowpeas
Green beans
Etc
Just throw everything except the spinach into a small pan and cook (without oil) over a low heat until the beans have warmed, then throw in the spinach and wilt slightly. Transfer it all to a container and pop it in your bag!
And here is the 100% alkaline version:
Use real tomatoes (about 4), peel them and chop roughly. Use real beans or chickpeas and rehydrate from dried. Don't heat, just eat it fresh. Obviously this takes a little longer and isn't warmed but it is delicious.
There you have it – super easy – super quick – super protein (about 12g) and super tasty.
And here is another high-protein alkaline smoothie recipe and my Alkaline Raw Cacao Bliss Balls Recipe too if you're interested!
Ross
REMEMBER: there are over 100+ alkaline diet recipes in my Alkaline Diet Recipe Book