Herbal tea has the power to heal…and tastes delicious!
I am a HUGE fan of herbal teas. They're alkaline, hydrating, taste great and have the power to heal and soothe the body.
Whenever I find a new recipe that I like I store it in my evernote collection – and I realised I should probably share this!
So this is my collection of 38 different DIY herbal, alkaline tea recipes you can try for immune support, anti-inflammatory benefits, liver health, kidney health, to help sleep, to reduce stress and for all manner of women's health goals/challenges (not for me obviously, but you'll notice a theme to some of them right now!).

Here they are: 38 Delicious Herbal Teas for 7 Different Goals
Immune Boosting Teas:
Immune Boosting Elderberry Tea from Katie (WellnessMama.com)
ImmuniTea Wellness Herbal Tea from Real Food Outlaws
Nettle, Cinnamon Herbal Immune Tea from Recipes to Nourish
Infusion Chai Tea Caffeine Free + Immune Boosting from Recipes to Nourish
Vitamin C Herbal Infusion @ Recipes to Nourish
Well Nourished's Immune Boosting Tea Recipe from Well Nourished
Autumn Tonic Tea from Natural Herbal Living
---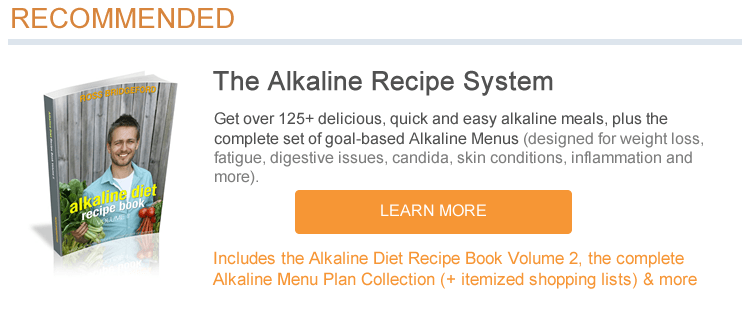 ---
Anti-Inflammatory Teas:
Ginger Tumeric Tea from Home Grown and Healthy
The Anti-Inflammatory Turmeric Tea from Sarah Wilson at IQuitSugar.com
TWO Powerful Turmeric Anti-Inflammation Teas from ME at LiveEnergized.com
---
Teas to Help You Sleep:
Tea to Help You Sleep (that's not chamomile!) from No Sleepness Nights
Sleepy Tea from Nourished Kitchen
Natural Sleep Tea Recipe from Naturally Thrifty
DIY SLEEPYTIME Tea from Hippy Habits
---
Teas for Digestive Health:
Tummy Tamer Tea @ Natural Living Mama
Ginger Tummy Tamer Tea @ Girl Meets Nourishment
Ayurvedic Digestion Tea Recipe from Empowered Sustinence
After-Dinner Belly Soothing Tea Recipe from The Kitchn
Digestion Aid Tea Recipe from Wakeup World
---
Teas to Support Liver Health:
Lemon, Ginger, Turmeric Tea Recipe by Juicing for Health
Liver Tonic Tea from Sense & Serendipity
Liver Tonic from Food.com
---
Teas to Help Remove Stress & Anxiety:
Adaptogen Herbal Tea Blend for Stress and Adrenal Health from Real Food Outlaws
Make Your Own Tranquil Tea Blend from Bulk Herb Store
The Most Amazing Herbal Tea for Anxiety from Holistic Saffron
Stress Tea from Mountain Rose Herbs
Calm Down Tea Recipe from Mother Earth Living
---
Teas to Soothe Colds, Sore Throats & Flu:
Sore Throat Herbal Remedy Tea from Studio Botanica
Soothing Marshmallow Root Tea Recipe from Wellness Mama
Cold & Flu Fighting Apple Green Tea Tumeric Tonic from A Harmony Healing
Winter Chai from Real Food Outlaws
---
Teas for Women's Health
Feminine Balance Tea from Real Food Outlaws
Pregnancy Safe Headache Tea from Real Food Outlaws
Herb Tea for Women from Untrained Housewife
Mama's Milk Tea from Natural Living Mama
Pregnancy Nutrient Booster Tea from Untrained Housewife
Do You Want to Turn Your Health Around in Just 7 Days for Just $1.99?
If you love the look of this guide and the benefits it will bring, check out my book The Alkaline Reset Cleanse. It's a gentle, enjoyable seven-day Cleanse that will completely transform your health and life. Abundant energy, dramatic weight loss, digestion healed, inflammation gone...these are all results my students have experienced from doing their Alkaline Reset Cleanse...
LIMITED TIME OFFER: The Alkaline Reset Cleanse Book is Just $1.99 (Kindle/eReader) -- Click to order now and get over $120+ of extra alkaline training from me!
Real Results from the Alkaline Reset Cleanse Book:

---