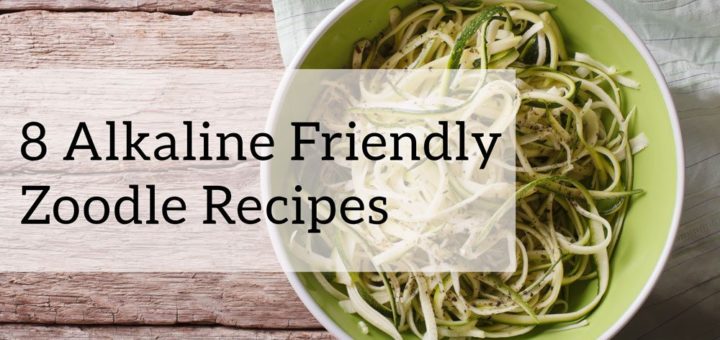 We love Zuchinni Noodles (known nowadays as zoodle!) but so many of the recipes merely substitute the pasta for zucchini – which risks leaving behind a lot of the more acid-forming ingredients we have worked hard to avoid.
To help you enjoy this wonderful dish, and inspire your own creations, we have scoured the internet in search of the best Alkaline-Friendly Zoodle Recipes!
And with all taking only 30min or less to put together, they make a great healthy choice when you're short on time.
PLUS of course you're removing the gluten from your meal – and replacing it with something raw, alkaline, nutrient-dense and delicious.
Quick, healthy and delicious! This super simple dish from Frankie's Feast is perfect for a nutritional mid-week meal without the fuss.
---
Zoodles with Basil Avocado Sauce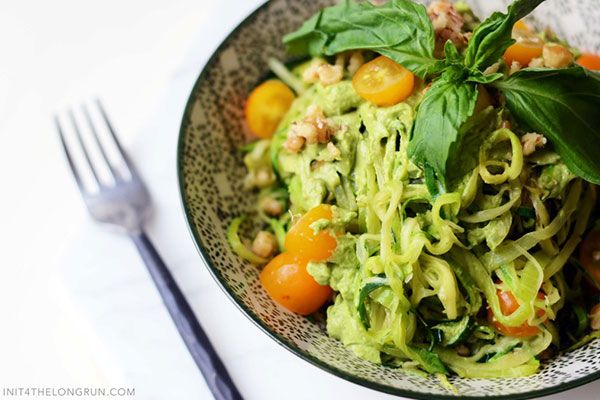 Topped with walnuts and fresh tomato this avocado and basil sauce offers a great creamy taste! From In it 4 the long run.
---
Heather's Zucchini Noodles (Zoodle) with Basil-Pumpkin Seed Pesto
Mix it up with this delicious pumpkin seed pesto dish, thanks to Cookie + Kate.
---
Satisfy those cheese cravings with this Vegan Alfredo Sauce from The Vegan 8 – just swap out the traditional pasta for Zoodles!
---
Zucchini Spaghetti (Zoodle) with Easy Lentil Marinara
Lentils add a great alkaline boost to this classic dish, thanks to In Sonnet's Kitchen.
---
Pistachio Kale Pesto with Zucchini Noodles + Cherries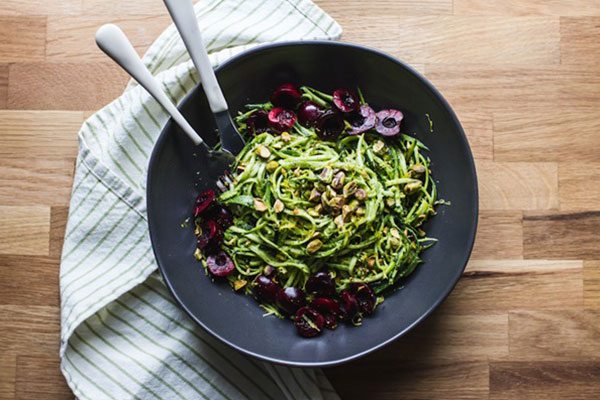 Full of bright, full flavors, this Zoodle dish from the Edible Perspective is sure to impress!
---
Spiralized Zucchini Noodles with Vegan Mint Pesto
Another fantastic twist on the classic pesto based sauce featuring mint, walnuts and lemon. From Steph in Thyme.
---
For more of an Asian flavor try these nutty sesame zoodles from Cookie and Cups, great on their own or as a side!
No Spiralizer/Zoodle Maker?
Check out this video showing you three ways to make zoodles with regular kitchen equipment: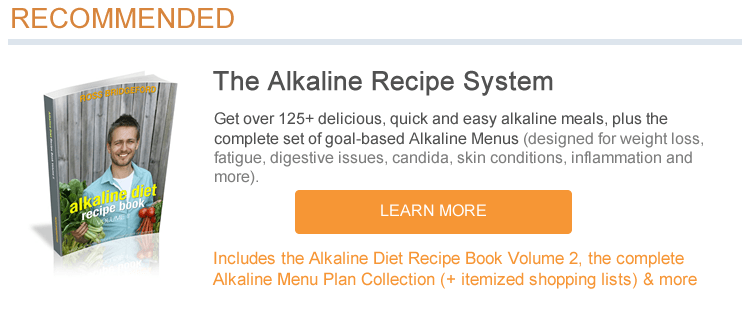 Do You Want to Turn Your Health Around in Just 7 Days for Just $1.99?
If you love the look of this guide and the benefits it will bring, check out my book The Alkaline Reset Cleanse. It's a gentle, enjoyable seven-day Cleanse that will completely transform your health and life. Abundant energy, dramatic weight loss, digestion healed, inflammation gone...these are all results my students have experienced from doing their Alkaline Reset Cleanse...
LIMITED TIME OFFER: The Alkaline Reset Cleanse Book is Just $1.99 (Kindle/eReader) -- Click to order now and get over $120+ of extra alkaline training from me!
Real Results from the Alkaline Reset Cleanse Book:

---