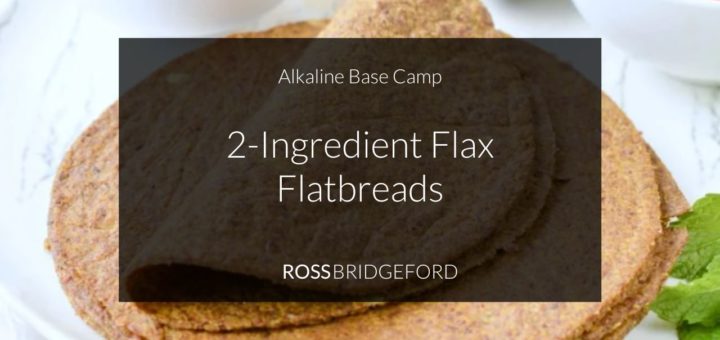 2-Ingredient Flax Flatbreads
This is one incredible, lifesaving, timesaving, game-changing recipe. One of the biggest requests I get from people is for a wrap recipe that is alkaline and gluten-free, and this one is both SO easy and so simple.
I love flatbreads and wraps because they can be the container of so much goodness, but these wraps are also an amazing source of goodness themselves!
Note: this is one of the TEN new recipes that my intimate, small-group Alkaline Base Camp membership just received for June. The other recipes for June include Kale & Walnut Pesto, Hormone Reset Soup, Gut Hormone Balancing Juice, Broccoli and Cashew Cream Slaw, Chilli Chocolate Bites, and more!
Each Friday my members get new coaching/training from me, and we just released our new recipes.
If you want to TRIAL being in my group for THIRTY DAYS click here (offer ends 16th June at Midnight PDT).]
The benefits of flax include:
Flax is high in fiber which helps to regulate digestion
Flax is a great source of omega-3 fatty acids, which are anti-inflammatory, alkaline, and absolutely ESSENTIAL for great energy and health.
Flax can help to lower cholesterol levels
Flax may also help to prevent cancer
Easy Alkaline Flatbreads
Makes Approx 5
Ingredients
1 cup of flax seeds
1 cup of water
(Optional)
1/4 tsp salt
1 tsp of seasoning such as garlic powder, cumin seeds, etc.
Instructions
1) Process flax seeds in a food processor until they resemble a flour
2) Boil the water and remove it from the heat once boiling. Add the flax flour and stir until it forms a dough (around 2 minutes) – adjust with a little more flax, or water if its too wet or dry.
3) Put the dough between two pieces of baking paper and roll it out using a rolling pin until it's 2mm thick. Cut into 4-5 circular wraps.
4) Warm a pan on high heat and cook each wrap for 1-2 minutes on each side and then remove and allow to cool.
5) Fill with your fave alkaline salad ingredients and enjoy!