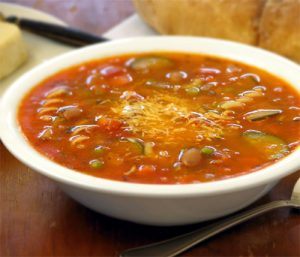 This meal is packed with alkaline goodness!
Aubergine, or eggplant in other countries, is a rich source of fiber and manganese, as well as a host of other vitamins and minerals. Not only that – it also contains important phytonutrients, many of which have antioxidant activity.
Plus, the sweet potato is an amazing source of beta-carotene! Add in the zucchini and carrot, and you have a fantastic meal that's healthful, nutritious, and delicious.
Super-Hearty Minestrone
Serves 2
Ingredients
1/2 cup of eggplant (aubergine)
1/2 cup of sweet potato
1/2 cup of zucchini (courgette)
1/2 cup of carrot
1/4 red onion
2 cloves of garlic
1/2 cup of beans (navy, kidney etc)
1 tbsp coconut oil
1 cup of vegetable stock
1 handful of basil
1 cup of tomato juice (fresh or bought)
Himalayan salt & black pepper
Instructions
1. Wash and cube the aubergine, potato and courgette and dice the carrot and onion.
2. In a large pot, gently sauté these ingredients in the coconut oil for about 2 minutes.
3. Now add the beans (can be any bean you like) and add the stock and tomato juice – bring this to a boil and then lower the heat to simmer for just 8-10 minutes.
4. Stir in the basil and season to taste
Enjoy!
[yumprint-recipe id='13']