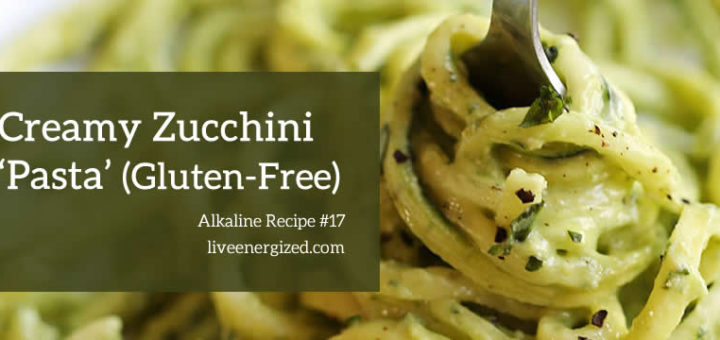 This is officially the newest, freshest alkaline diet recipe in the world. My girlfriend and I (well, mostly her) made it last night for our friends Mark and Nat and everyone agreed it was flippin' delicious. They couldn't believe it didn't have cream or cheese in it!
What started out with the intention of being a reasonably healthy meal (we try not to force health on our friends!), ended up being a fully alkaline, raw pasta dish (apart from the pasta!) that left everyone feeling full and happy!
So here's how it goes:
Creamy Zucchini Pasta
Serves 4
Ingredients:
1 Zucchini (courgette)
1 Bag of Rocket (arugula)
1/2 Red Onion
1 Bunch Asparagus
12 Basil Leaves
4 Tomatoes
2 Cloves Garlic
4 Serves Gluten Free Pasta – OR make zoodles/carrot noodles using a spiralizer
Olive Oil
Optional Udo's for the Sauce
Directions:
Start by getting the GF-pasta boiling, once it is ready, remove from the heat and drain to ensure it doesn't go sticky or soggy. Drizzle it with olive oil if it looks like it might stick together and form one giant pasta shape.
While this is bubbling away, finely dice the red onion and chop the tomato into chunks. Put these to one side with a few handfuls of rocket.
Now it is time to prepare the sauce – so put 1 chopped up zucchini/courgette, the remaining rocket, the asparagus, the basil and the garlic into a blender with a good drizzle of olive or Udo's oil and blend until it becomes a thick, light green sauce. Salt and pepper to taste.
Now, stir the sauce in with the pasta (lightly warm if you like, but don't cook!), put into bowls, top with the tomato, red onion and rocket and voila.
A totally raw, alkaline, filling pasta! Brilliant!
Do You Want to Turn Your Health Around in Just 7 Days for Just $1.99?
If you love the look of this guide and the benefits it will bring, check out my book The Alkaline Reset Cleanse. It's a gentle, enjoyable seven-day Cleanse that will completely transform your health and life. Abundant energy, dramatic weight loss, digestion healed, inflammation gone...these are all results my students have experienced from doing their Alkaline Reset Cleanse...
LIMITED TIME OFFER: The Alkaline Reset Cleanse Book is Just $1.99 (Kindle/eReader) -- Click to order now and get over $120+ of extra alkaline training from me!
Real Results from the Alkaline Reset Cleanse Book:

---