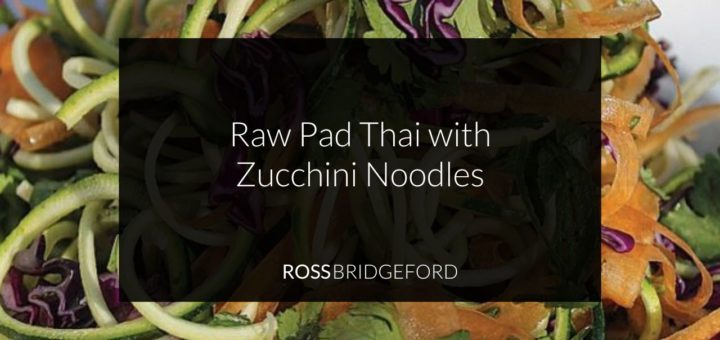 Alkaline Recipe #188 Raw Pad Thai (With Zucchini Noodles)
I love this recipe for it's simplicity, nutrient density and the fact that it's taken one of my previously favourite 'unhealthy' recipes – pad thai.
It's pretty much entirely raw, it's delicious, vegan and very readily accepted by non-alkalisers if you want to serve it to your family and friends!
Raw Pad Thai Recipe
Serves 2
Ingredients:
3 medium courgettes (zucchini)
3 large carrots
2 spring onions, chopped (also known as green onions, scallions)
1 cup shredded red cabbage
½ packet of beansprouts
1 cup cauliflower florets
1 bunch of fresh coriander/cilantro, chopped roughly
Coconut Oil
Sauce
¼ cup tahini
¼ cup almond butter
¼ cup tamari
1 tsp coconut sugar
2 tbsp lime or lemon juice
1 clove garlic, minced
1 inch of ginger root, grated
Instructions:
1) First, prepare the carrot and courgette 'noodles' by using either a spiralizer or mandolin. If you don't have either of these, use a vegetable peeler to make slices of the zucchini and carrot and then use a sharp knife to slice these into very thin strips.
2) Put these into a large bowl with the spring onions, shredded cabbage, beansprouts (thoroughly washed), cauliflower and coriander.
3) Now prepare the sauce by blending the tahini, almond butter, tamari, coconut sugar, lime/lemon juice, garlic and grated ginger. Add a little water if needed – this is a very thick sauce.
4) Finally, mix the sauce into the bowl and get everything evenly coated.
5) Serve with a sprig of coriander and an extra little squeeze of lemon or lime
Enjoy!