Alkaline Recipe #188 Raw Pad Thai (With Zucchini Noodles)
I love this recipe for it's simplicity, nutrient density and the fact that it's taken one of my previously favourite 'unhealthy' recipes – pad thai.
It's pretty much entirely raw, it's delicious, vegan and very readily accepted by non-alkalisers if you want to serve it to your family and friends!
Raw Pad Thai Recipe
Serves 2
Ingredients:
3 medium courgettes (zucchini)
3 large carrots
2 spring onions, chopped (also known as green onions, scallions)
1 cup shredded red cabbage
½ packet of beansprouts
1 cup cauliflower florets
1 bunch of fresh coriander/cilantro, chopped roughly
Coconut Oil
Sauce
¼ cup tahini
¼ cup almond butter
¼ cup tamari
1 tsp coconut sugar
2 tbsp lime or lemon juice
1 clove garlic, minced
1 inch of ginger root, grated
Instructions:
1) First, prepare the carrot and courgette 'noodles' by using either a spiralizer or mandolin. If you don't have either of these, use a vegetable peeler to make slices of the zucchini and carrot and then use a sharp knife to slice these into very thin strips.
2) Put these into a large bowl with the spring onions, shredded cabbage, beansprouts (thoroughly washed), cauliflower and coriander.
3) Now prepare the sauce by blending the tahini, almond butter, tamari, coconut sugar, lime/lemon juice, garlic and grated ginger. Add a little water if needed – this is a very thick sauce.
4) Finally, mix the sauce into the bowl and get everything evenly coated.
5) Serve with a sprig of coriander and an extra little squeeze of lemon or lime
Enjoy!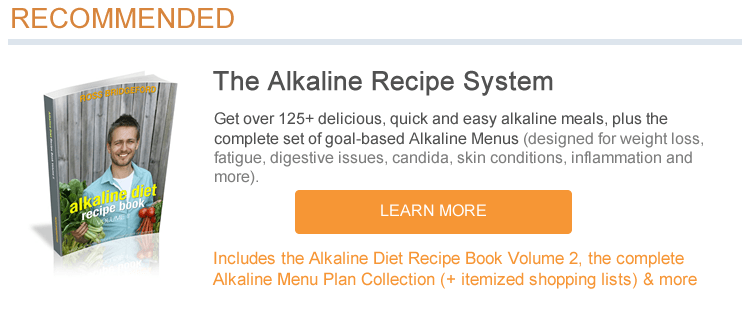 Do You Want to Turn Your Health Around in Just 7 Days for Just $1.99?
If you love the look of this guide and the benefits it will bring, check out my book The Alkaline Reset Cleanse. It's a gentle, enjoyable seven-day Cleanse that will completely transform your health and life. Abundant energy, dramatic weight loss, digestion healed, inflammation gone...these are all results my students have experienced from doing their Alkaline Reset Cleanse...
LIMITED TIME OFFER: The Alkaline Reset Cleanse Book is Just $1.99 (Kindle/eReader) -- Click to order now and get over $120+ of extra alkaline training from me!
Real Results from the Alkaline Reset Cleanse Book:

---