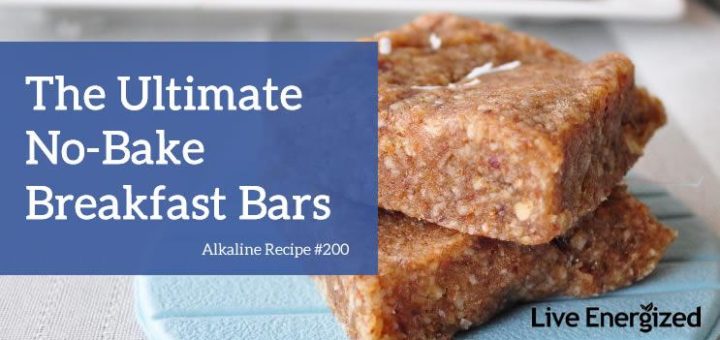 THESE ARE RIDICULOUSLY EASY AND DELICIOUS! I love them so much. They're great to make in bulk and have stored, and are so fast.
They are also tasty, have the anti-inflammatory properties from the ginger, protein and fibre from the oats, healthy fats from the coconut oil and if you use the flaxmeal, omega 3 from here too!
Give these a try they're so flippin easy!
No-Bake Alkaline Breakfast Bars
Ingredients:
5 cups uncooked oatmeal (quick oats)
320g almond butter
1 cup coconut cream
3 tbsp rice malt syrup (brown rice syrup)
1 inch ginger (or 2 tsp ground ginger)
2 tbsp coconut oil
Optional: swap 1 cup of oatmeal for 1 cup flaxmeal
Directions
Put the coconut cream, coconut oil and rice malt syrup into a large mixing bowl and whisk until everything is combined
Now add the almond butter and grate in the ginger and whisk until it's all combined. The almond butter – depending on the temperature of your room may stay a little in a clump/lump – but don't worry about this because…
Now that you add the oats (and flax) you can mix with a spoon to smooth it all out. If it's still lumpy you can use your hands (which is lots of fun) to mix together.
Now take a flat baking dish, lined with baking/parchment paper and flatten the mixture out into the dish
Refigerate for a minimum of 2 hours, or overnight and then cut into bars. These will stay good for at least a week in the fridge