Breakfast is always a hard one, especially when you are first starting out. At first glance, you check out the list of acid/alkaline foods and think – WHAT AM I GOING TO HAVE FOR BREAKFAST?! BROCCOLI?!
Well, while I must admit I have had steamed broccoli for breakfast on more than a few occasions, you don't have to.
In fact, breakfast has become my favourite meal of the day because the more I've learned to alkalise and compromise (both in terms of living a perfect alkaline life and living a debauched, unhealthy life) the more I have learned to find ways to make breakfast so much more exciting than just cereal and toast.
And this is one of my favourites. I first had scrambled tofu at The Galleon in St Kilda and loved it (as well as their sweet potato & basil cakes but that's another story) and since then I've been making it at home for me and the missus and anyone who stops over.
So here it is, the next beautiful alkaline meal from me:
Scrambled Tofu & Tomato: Vegan Scramble
Serves 2
Ingredients
285g Regular firm tofu
1 Tablespoon coconut oil (or a drizzle of olive oil – coconut is better)
2 Tomatoes (or a handful of cherry tomatoes)
2 Big handfuls of baby spinach
1 handful of arugula/rocket
1/2 Brown onion (or red if you fancy)
½ Small red pepper
Pinch of turmeric
Freshly ground black pepper
Himalayan/Sea salt
A little basil
A little coriander/cilantro
A pinch of cayenne pepper
Instructions
This is really easy, and really quick. Simply crumble the tofu in your hands into a bowl. Now chop and quickly fry off the onion and dice the pepper and do the same.
Now dice the tomatoes and throw these in with the tofu, spinach and a pinch of turmeric. Grind in your pepper and salt and cook until the tofu is warm and ready. Right at the last throw in some torn basil leaves, the rocket, coriander and serve with a pinch of cayenne pepper!
I like to serve it on some toasted, sprouted bread and with some baby spinach leaves drizzled with olive oil.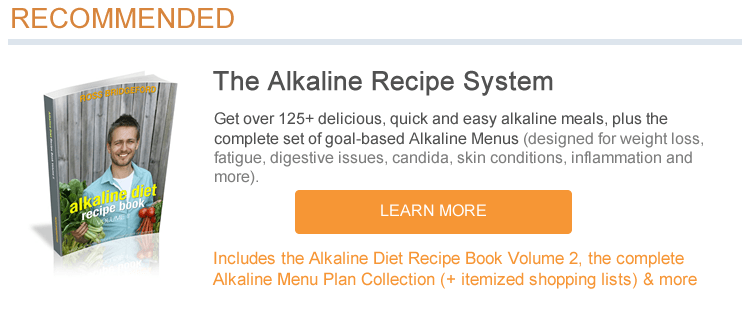 Do You Want to Turn Your Health Around in Just 7 Days for Just $1.99?
If you love the look of this guide and the benefits it will bring, check out my book The Alkaline Reset Cleanse. It's a gentle, enjoyable seven-day Cleanse that will completely transform your health and life. Abundant energy, dramatic weight loss, digestion healed, inflammation gone...these are all results my students have experienced from doing their Alkaline Reset Cleanse...
LIMITED TIME OFFER: The Alkaline Reset Cleanse Book is Just $1.99 (Kindle/eReader) -- Click to order now and get over $120+ of extra alkaline training from me!
Real Results from the Alkaline Reset Cleanse Book:

---