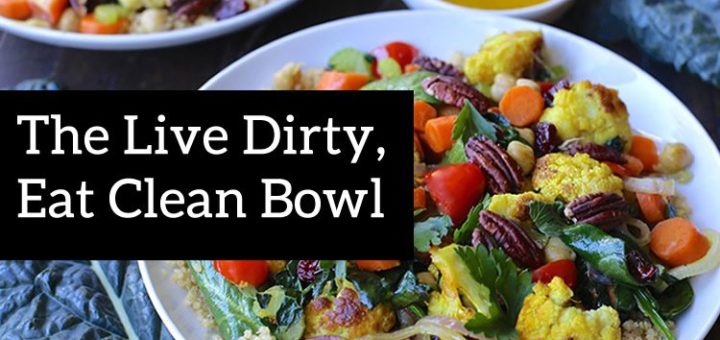 Filling, Nutritionally Amazing, Nourishing, Alkaline Bowl to Balance & Heal Your Gut
This recipe freakin' rocks. Absolutely, absurdly, wonderfully delicious.
I almost NEVER post recipes from other folks on this site. Of course I let you know about awesome recipes on my Facebook page and stuff, but I rarely have guest recipes or feature others recipes – but this recipe from Elise Museles – of Kale & Chocolate – is stunning, delicious and superbly nourishing.
I have fallen in love with Elise's recipes over the past few months – they're fantastic and almost entirely alkaline too!
Here's Elise's description of the bowl:
While I'm usually a big fan of following the no recipe approach to creating bowls, this is an exception. The signature "Live Dirty, Eat Clean" bowl that I created for The Microbiome Solution is a perfectly balanced meal filled with microbe-boosting and gut-healthy ingredients! It makes a great colorful (and healing!) addition to your dinner table that will warm you up from the inside out. Use this recipe as inspiration to create your own nourishing bowl. Enjoy!
And you can (and should) check out her full site here – Kale & Chocolate and her Instagram here
Live Dirty, Eat Clean Bowl
Makes 2 Large Bowls
Ingredients
1 to 2 cups cooked brown rice or quinoa
2 to 3 tablespoons coconut oil or olive oil
1 red onion, thinly sliced
4 carrots, peeled and thinly sliced
3 stalks celery, thinly sliced
1 cup Curry and Turmeric Roasted Cauliflower (see recipe here)
1 cup cooked chickpeas, rinsed and drained
1 bunch kale, stalks removed and discarded and leaves sliced thin
2 cups baby spinach
1 cup cherry tomatoes, sliced in half
¼ cup dried Turkish apricots, chopped (or dried cranberries or cherries)
¼ cup toasted pecans, chopped
1 bunch of fresh parsley, chopped (about 1⁄2 cup)
Sea salt & fresh pepper to taste
Dressing
½-inch piece of fresh ginger, peeled and minced
2 tablespoons freshly squeezed lemon juice
1 teaspoon raw honey or maple syrup
1 teaspoon Dijon mustard
¼ teaspoon red pepper flakes
¼ cup olive oil
Method:
Reheat the quinoa or brown rice and divide it into two separate bowls.
Heat a large pan over medium-high heat and add the olive or coconut oil. Stir in onion, carrots, and celery. Sauté the vegetables for 3 to 4 minutes, until they begin to soften and brown.
In the last minute, toss in the roasted cauliflower and chickpeas.
Next, add the sliced kale to the mix and allow the kale to slightly wilt for about 1 minute. Remove the pan from the heat and add the baby spinach and tomatoes. Stir so the heat of the vegetables cooks the spinach and tomatoes. Place the sautéed mixture over the brown rice or quinoa.
Sprinkle with sea salt & pepper. Add in the dried fruit.
TO MAKE THE CURRY & TURMERIC ROASTED CAULIFLOWER:
Preheat the oven to 400°F. Lightly oil a roasting pan or rimmed sheet pan.
In a large mixing bowl, toss cauliflower with the curry powder, turmeric, olive oil, salt, and pepper. Place on the pan. Roast for 20 to 25 minutes, until the edges are golden brown.
TO MAKE THE DRESSING:
Mix together the ginger, lemon juice, honey, mustard, and red pepper flakes in a small mixing bowl. Slowly whisk in the olive oil, to form an emulsion. Drizzle the dressing over the bowls. Toss lightly.
Top with toasted pecans and fresh parsley. Save any remaining dressing in the refrigerator for up to 4 days. Eat immediately!
ENJOY!
Ross
Source: original recipe by Elise Museles at Kale & Chocolate – republished with her kind permission 🙂