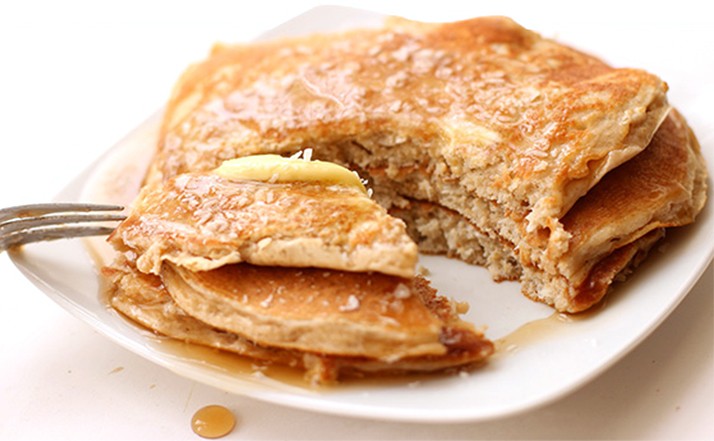 This is a great warming, filling, simple breakfast that really feels like a treat!
Packed with potassium, and anti-inflammatories, it's supportive of the kidneys while also giving a decent punch of fibre and protein too.
This is a great one for a weekend treat, while still being alkaline and healthy and with zero gluten, fructose, processed foods or acid-forming foods.

Gluten-Free Buckwheat & Pumpkin Pancakes
2016-10-28 00:44:50
Ingredients
1 1/2 cups buckwheat flour
1 teaspoon baking powder
1/2 teaspoon sea salt
½ teaspoon ginger
¼ teaspoon allspice
¼ teaspoon nutmeg
½ teaspoon cinnamon
½ medium sized pumpkin or butternut squash
2 tablespoons ground flax seeds
2 tablespoons brown rice syrup/rice malt syrup
2 cups almond milk
2 tbsp coconut oil
Instructions
Start by making the pumpkin puree: peel and chop the pumpkin into 3/4 in chunks and steam for 15 minutes until soft, and then blend until smooth with a little coconut oil.
Combine the flour, baking powder, salt and spices in a large bowl and set aside.
Now combine the pumpkin, flax, rice malt syrup and almond milk in a small bowl and whisk until smooth.
Pour the dry ingredients into the wet, and whisk further until well combined. Let the batter stand for ten minutes.
Set a large pan over medium-low heat; coat it generously with coconut oil
Once it has reached a reasonably hot temperature (i.e. not cold) and spoon a large spoon of the batter into the pan.
Cook until bubbles start to form, then flip and cook on the other side until brown.
Repeat with the remaining batter, adding more coconut oil or butter for each batch.
Serve immediately with coconut yoghurt, fruit or the topping of your choice!
Notes
Optional other toppings include chopped nuts & seeds, lemon & orange juice (freshly squeezed), rice malt syrup/brown rice syrup
Live Energized https://liveenergized.com/
Enjoy and let me know your topping variations!
Ross
P.S. Take a look at the Alkaline Recipe System. With hundreds of easy-to-prepare Alkaline recipes PLUS 7 goal-based meal plans each with itemized shopping lists (for goals including weight loss, more energy, better digestion, clearer skin and more) – it makes reaching your health goals SO easy!
+ Make sure to sign up for our free newsletter to get our latest alkaline recipes delivered weekly (it's free).