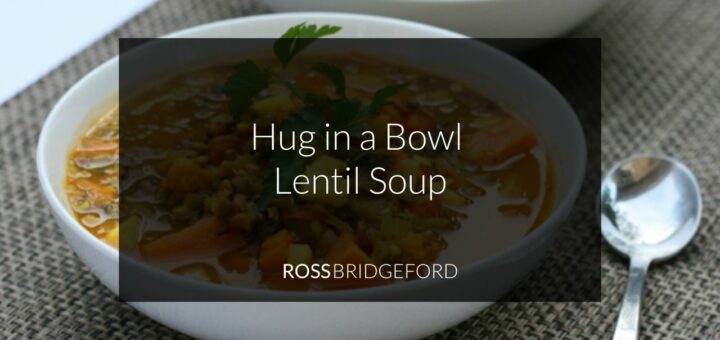 Warming, Comforting Alkaline Soup Recipe 🤩 🍲
As the days get colder and the nights grow longer (for some of us), or there is simply the still-cold springtime of the UK and Europe, we need food that is warming and comforting.
And there's nothing more comforting than a warm bowl of homemade soup.
Our "Hug in a Bowl Lentil Soup" recipe is not only delicious and satisfying, but it's also packed with nourishing, alkaline ingredients that boast a myriad of health benefits. This soul-warming soup combines the earthy flavors of green lentils, the crunchiness of carrots and celery, and the zesty kick of ginger, garlic, and chili. It's the perfect blend of hearty and spicy, guaranteed to warm you up from the inside out.
Lentils, the star ingredient of this soup, are not only affordable and easy to cook but also an excellent source of plant-based protein, dietary fiber, and essential alkaline nutrients like iron, folate, and manganese. They can help improve digestive health, support heart health, and contribute to overall wellness. Carrots and celery bring vitamins and antioxidants to the mix, supporting eye health, immune function, and reducing inflammation.
The combination of garlic and ginger not only elevates the flavor profile of the soup but also offers a host of health benefits. Garlic is known for its antimicrobial and immune-boosting properties, while ginger is a powerful anti-inflammatory and antioxidant, aiding digestion and soothing an upset stomach. The inclusion of lime juice and tamari sauce not only adds depth of flavor but also provides a good dose of vitamin C and essential amino acids, respectively. Finally, the red chili not only adds a pleasant heat to the soup but also contains capsaicin, which can help boost metabolism and promote better digestion.
So, gather your ingredients and prepare to be embraced by the warmth of our Hug in a Bowl Lentil Soup. Not only will it leave your taste buds dancing, but you'll also be nourishing your body with each comforting spoonful.
New Alkaline Soup Recipe:
Print
Hug in a Bowl Lentil Soup
Author:
Yield:

2

Bowls

1

x
½ tablespoon olive oil
2 carrots, peeled and finely chopped
2 sticks of celery, finely chopped
1 onion, finely chopped
2 cloves garlic, grated
2½cm piece ginger, grated
1 small bunch of spring onions, finely sliced (plus extra to serve)
1 liter vegetable broth
1 x 400g tin green lentils, drained and rinsed
1 lime, juiced
2 tablespoons tamari sauce
1 red chili, finely chopped(plus extra to serve)
Pinch of sea salt
Instructions
Heat the olive oil in a large saucepan over medium heat.
Add the carrots and celery and cook for 5 minutes until slightly softened.
Add the garlic, ginger, and spring onions and fry for 30 seconds until fragrant.
Pour in the vegetable broth and bring to a boil. Reduce the heat to low and add the green lentils.
Simmer for 10 minutes until the vegetables are soft and the soup is slightly reduced.
Add the lime juice, tamari sauce, and chili, along with a pinch of salt.
Serve the Hug in a Bowl Lentil Soup hot, with a sprinkle of spring onions and chili on top for extra flavor and color.
See Also:
Guide to Alkaline Meal Planning on-a-Budget