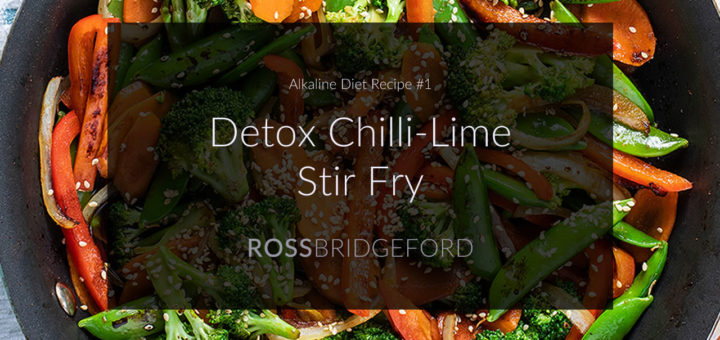 Edit: WOW this was my first ever alkaline diet recipe I posted to this site…EVER…back in 2005! Whoa. Enjoy! It brings back amazing memories for me 🙂
This is a great alkaline, family-friendly recipe.
Firstly it is great because it was invented and constructed 100% in my kitchen (although admittedly not entirely by me alone), and secondly because it is 100% healthy, alkalizing and delicious.
In fact, this is the alkaline recipe that first really had me believe in myself that I could create a whole Alkaline Recipe Book!
And the rest is history!
The ingredients below taste great – but you can use any greens you have available. Kale works really well!
Alkaline Detox Lime-Chili Stir 'Fry'
Ingredients:
Pak-Choi
Carrots
Mange-Tout/Sugar Snap Peas
Beansprouts
Broccoli
Cabbage (red or green)
Courgette (Zucchini)
Fresh Lime Juice
Chili
Coriander
Vegetable Boullion
Brown Basmati Rice/Wild Rice
Directions:
Firstly, pulp the coriander with a pestle and mortar along with the finely chopped chili, adding lime juice as you go to make a dressing/sauce. Then set aside to infuse.
Now chop all of the vegetables fairly finely (so that they will cook quickly). Steam these until they are only just cooked (still a little crunchy).
Now place all ingredients on a bed of fluffy, steamed rice and cover with the coriander and lime-chili sauce.
Serve, piping hot with a smile.
The beauty of this is its simplicity. Optionally you can steam fry the vegetables in a vegetable boullion stock if you do not have a steamer.
Another option is to have salmon with this (if you are into seafood).
I have not included quantities as it is probably best to find your own way. Also, of course, feel free to just use whatever vegetables you have available to you.