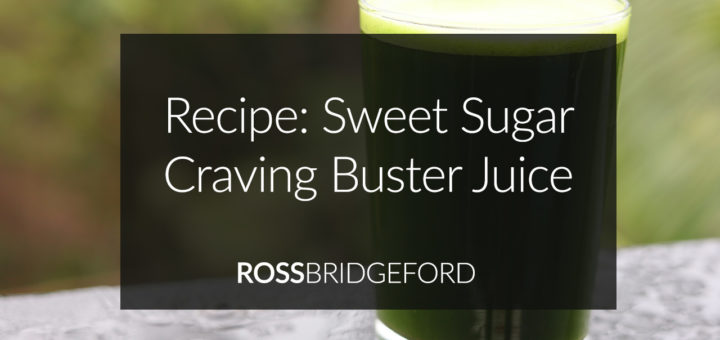 Recipe: "Sweet Cravings" Buster Juice
This recipe is a real winner because, well, it's delicious first and foremost, but also because it contains the alkaline minerals you need to completely remove cravings for sugar and sweets!
Alkaline foods are predominantly 'alkaline' because of the minerals they contain. Yep, they are high in alkaline minerals!
As I've discussed in prior guides about beating cravings, the body's cry for salt, sugar, bread, fatty foods, and so on is most often a cry for a particular group of minerals, and in the case of sugar and sweet cravings, those minerals are:
And this recipe, with the kale, broccoli, spinach, and parsley, in particular, gives you a great hit of all three of these minerals!
In fact, you will get:
60% or more of your RDI of chromium
63% or more of your RDI of magnesium
36% or more of your RDI of zinc
Not to mention well over the daily needs of calcium, vitamin E, K, C, and A, manganese, folate, and more.  It's super alkaline, and delicious.
And indeed – it makes those cravings disappear pretty quickly!
Let's get into it…
The "Sweet Sugar Cravings Buster" Juice
Serves 2
Ingredients:
1 cup spinach
2 cups of kale (stalks removed)
1/4 head of broccoli
1/4 cup fresh parsley leaves
1 cucumber
2 sticks of celery
Coconut water or filtered water to taste
Optional: a squeeze of fresh lemon juice
Instructions:
Simply juice all of the ingredients and top up with water or coconut water to suit your taste preference. If you want to remove some of the 'green' flavour, add a squeeze of lemon juice to each glass too.
This will keep in the fridge in an airtight container for 36-48 hours.
Would You Like a Brand-New Recipe From Me Every Friday?
How would you like, each Friday afternoon, a new alkaline recipe from me to try…ready for the weekend? It's called my 'Recipe for the Weekend' and it's just that. We don't need something else heavy, clogging up our inbox and our headspace, so this is just a little delicious slice of alkalinity to take with you on your way into the best part of the week.
I hope you love the recipes!