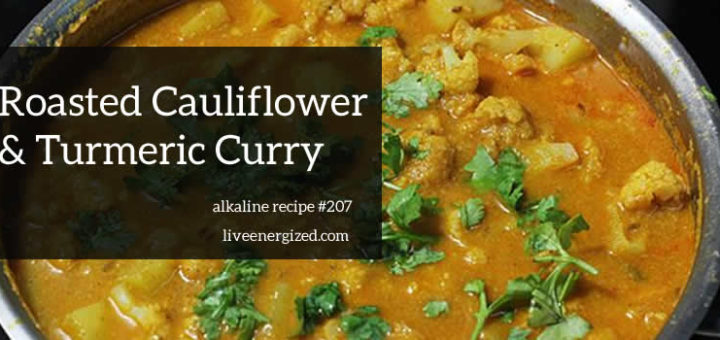 This beautiful, hearty curry is not only alkaline, but is highly anti-inflammatory, combining four of the most powerfully anti-inflammatory foods on Earth into deliciousness.
The abundance of turmeric, ginger, garlic and bell pepper (not to mention the healthy fats from the coconut oil, nuts and seeds) are all super anti-inflammatory, and will fortify your immune system too.
I absolutely love this recipe. If you enjoy it too be sure to let me know!
Alkaline Recipe #207: Roasted Cauliflower & Turmeric Curry
Serves 4
Ingredients
FOR THE MASALA:
1 1/2 tablespoons coriander seeds
1 teaspoon cumin seeds
A pinch of cardamom powder
1 1/4-inch cinnamon stick
6 cloves
1/2 cup raw cashews
FOR THE CURRY:
1 teaspoon turmeric powder
1/2 teaspoon salt
2 cups cauliflower florets
2 tablespoons coconut oil
3 cloves of garlic, minced
1cm of fresh ginger root, grated (or 1 teaspoon ginger powder)
1 bell pepper/capsicum, diced
2 cups red onions, finely chopped
1/2 cup Roma tomatoes, finely chopped
1cm of fresh turmeric
1/2 teaspoon chilli powder
2 cups unsweetened coconut milk
1 teaspoon Himalayan salt
1/2 teaspoon garam masala
1 1/2 cups water (as needed)
1 tablespoon chopped coriander (cilantro)
Instructions
Step One: Preparing the Turmeric Roasted Cauliflower
Start by preheating the oven to 200°C / 400°F
Next, in a large mixing bowl, put the cauliflower, powdered turmeric, a pinch of salt and coconut oil inside and then get your hands in there and rub it all together.
Pour this mix out onto a baking tray lined with baking paper and then put into the oven for 20-30 minutes -checking regularly that the cauliflower doesn't start to burn. A little is fine, but don't let it overcook.
Step Two: The Curry
While the cauliflower is happily cooking away you need to make the masala. Do this by simply throwing all of the masala ingredients into a food processor or blender and blending until it's completely smooth. We want no lumps here!
Now, heat the coconut oil over a gentle heat in a large pan and then add the garlic, ginger and onions and cook gently for 2-3 minutes.
Next add the tomatoes and bell pepper/capsicum and cook until the tomatoes become loose and begin to fall apart a little.
At this point you need to add the masala mix and stir this through for another 2-3 minutes – don't let it stick or burn. Once this is mixed through add the turmeric, chilli powder and then the coconut milk and as much of the water as you need to get the consistency you want.
Turn the heat right down to a simmer and let it cook for five minutes. Season to taste and once the cauliflower is ready, remove it from the oven and add it to the pan.
Mix through again and then turn off the heat. Once you're ready to serve, stir through the coriander/cilantro and serve!
Goes well with quinoa or brown rice.
[yumprint-recipe id='102′]