Sounds outlandish, I know. But it is true. If you are serious about alkalising your body then you simply have to cut right back on the fruit in your diet.
The reason?
Fruit is absolutely packed with sugar. While I understand that it also contains fibre, vitamins, phytonutrients etc. the sheer amount of sugar that fruit contains means that this a worthwhile trade off.
If you're serious about alkalising then treat fruit as a treat – not a principle source of goodness. The amount of sugar in the fruit is seriously acidifying to the body.
Personally, I eat fruit, at a maximum once per day and seek my nutrients from fresh vegetables instead. Would I eat fruit if there was nothing else to eat? Sure. I'd eat it instead of a Mars bar or other unhealthy snacks – but the point I'm making here is don't look at fruit as a 'free-for-all' that you can eat as much as you like of – it is very high in sugar!
The Problem with Sugar (and a quick crash course on why an acidic lifestyle is so bad)
In the same way that our body will do whatever it has to in order to maintain a temperature of 37 degrees, it will go to similar lengths to maintain a pH level of 7.365 for our internal cells, particularly the blood.
The modern Western diet of meats, dairy, fizzy drinks, chips, chocolate, candy, alcohol, coffee, pizza, pasta, bread etc has a massively acidic effect on the body. Such an acidic lifestyle puts incredible stress and strain on the body as it has to constantly fire-fight to keep this pH level of 7.365.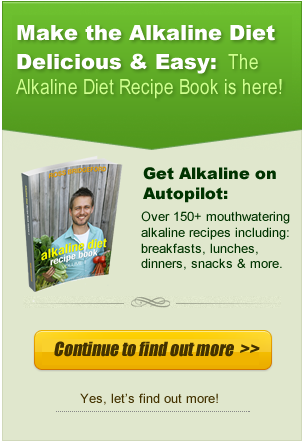 This not only takes up a MASSIVE amount of our energy (remember how you feel after Christmas dinner or a huge takeaway meal?) but it also uses up the alkaline minerals (buffers) in our body including calcium, potassium, magnesium and sodium. This in turn leads to so many health issues it is unreal.
These acid-forming foods and drinks also lead to the creation of yeasts, bacteria and mold in our blood. In addition, the acids that are created and consumed in our modern lifestyle also ferment the blood and create harmful by-products, toxins and alcohols, which then further destroy our internal environment.
With more acid, more toxins are created, the pH is lowered, the bacteria and yeast grows, becomes mold, and a vicious cycle begins.
And what's more – these harmful bacteria, yeast and mold actually feed off the nutrients you consume! But that is not all! The waste products they leave behind also act as their food, meaning that rapid multiplication takes place!
So when we consume sugar it sends our body into turmoil. Consuming sugar is like throwing petrol onto a fire. It rapidly fuels this cycle, compounding the problem and placing an insane amount of stress on the body.
I've written about this before and a number of questions and concerns often arise, but the question that comes up most frequently is this:
But sugar from fruit is different isn't it? Fructose is ok, right?
Nope. Sugar is sugar is sugar. It doesn't matter where it comes from, it still wreaks havoc with the acid/alkaline balance of the body. Whether it is from fructose, sucrose, an apple, honey or a piece of chocolate cake, the sugar still has the same devastating effect. How quickly or slowly the body metabolises different sugars may have an effect on your energy levels (in terms of how quickly the peaks and troughs will follow one another) but makes no difference to the fact that the sugar ferments and fuels these harmful microforms in exactly the same way.
So stop eating fruit! It is plain to see that sugar is incredibly harmful, and fruit is packed full of it. And as for fruit juice? Fresh or not, fruit juice is simply highly concentrated fruit! But without the fibre! It is the same problem multiplied by twenty. DO NOT DRINK FRUIT JUICE!
Sure, if it is the choice between an apple and a Mars bar then go for the apple, because you're at least getting some goodness. But better still, give yourself better choices so you don't have to go for the lesser of two evils! (wow, five years ago I never would have thought I would be calling fruit 'evil'!)
Is any fruit OK?
Yes! There are a handful of low-sugar fruits that are great for you! Tomato, avocado, lemon, lime and grapefruit are all alkalising and full of goodness. And before anyone asks about how lemons and limes can be alkalising – the answer is simple: it is the effect the food has on the body, not whether it is acid or alkaline in it's natural state. The reason lemons and limes have an alkalising effect is because they are not only high water content and low sugar content, but they also contain high amounts of alkaline minerals (potassium in particular).
I hope this makes sense. As ever, leave any questions below. This post will have been a shock to a few people, especially given how many alkaline food charts I see on the Internet with fruits listed as alkaline (alongside maple syrup and honey, so not the most trustworthy). But it really is down to sugar, and we all know that sugar is really not so good for us.
In my next post I'll give some tips on how to transition away from fruit, but for now please treat it as a treat and nothing more than that!