Why Are Alkaline Food Charts All So Different?
This is one of the most common questions I get: "Ross, why are alkaline food lists different? Why does one say some foods are alkaline whereas they are listed as acidic somewhere else?"
I can totally see why it would be so frustrating to see such differences in the lists of alkaline foods out there.
You get started, think you've got a handle on things and then…BAM…that food you've been eating for the past two week is suddenly acidic on another chart you see!
When you're starting out on a new diet plan or healthy eating lifestyle it can be hard, so the last thing you want to see is that your hard work has been fruitless.
So in this guide I want to clear a few things up for you, explain why there are differences and give you the reasons why I believe that my Acid/Alkaline Food Chart is the clearest and most accurate, and the one you should be following.

Important: No Alkaline Food List is 100% Accurate…and One Size Fits ONE
This is so important to remember – nobody's list is totally accurate. Nobody has measured the blood pH impact of every single food known to man on enough people to get an averaged out impact that we can generalize out to a total population. These alkaline food lists should be used as a guiding principle for you in your life to make the right decision more often than not…
Especially because…
As I like to say one size fits…ONE!. Not all, one. We are all different, we are all individuals. We all have our own complexities, genetic strengths and weaknesses and so on.
The work your body does to maintain your blood pH at 7.365 is complex, and what you have going on in your body will determine how easy or hard that it, how powerful or not certain foods will be, how quickly you'll see results, what hurdles you'll need to jump and which goals will be easy for you.
Again, it all comes down to using these charts as a guiding principle. And importantly you never have to be perfect. This is one of the absolute cornerstones of my coaching – you never, ever have to be 100%.
So with that in mind, even more these charts become a guide for you to eat the higher alkaline foods, and steer clear of the stronger acidic foods most of the time.
Don't get too bogged down in detail, don't overthink things too much. Relax and use these charts to educate yourself, and build yourself a solid bank of delicious, easy to make recipes that you can rely on to consistently move your body towards your health goals.
Another Important Note: A Quick Distinction on Body pH
It's also important for me to highlight at this stage that we are not trying to change your pH and make you more alkaline.
The goal of the alkaline diet (and this is a mistake/misunderstanding of so many people, including most alkaline 'experts' out there) is to give your body the tools (read: nutrients) it needs to effortlessly maintain your pH.
Not get 'more alkaline', or get 'alkalized'. This will not happen. Your body will ALWAYS keep your blood pH as close to 7.365 as possible. It is the stress caused by your body needing to regulate this pH that causes the issues.
You can read more on this in my alkaline myths guide here.
But for now, just remember this -keep it in mind, because it also helps you to navigate your way through the charts, and through life when you're following my advice!
The Truth: Why Are Alkaline Food Lists Different
I know it is quite confusing to see such differences in the charts. This amount of conflicting information is the main reason I set up this site and started down this path in the first place…and as I mentioned, I believe my charts are the most accurate.
You can grab a free copy of my charts here.
The TWO Main Reasons for the Confusion
There are two principle reasons why you're seeing different classifications in the charts. For instance, why are pineapples strong alkaline on some, but strong acid on others? And why are tomatoes acidic on some, yet alkaline on mine?
These two reasons are:
PRAL: many charts (the lazy ones!) base their rankings on the readings solely on the Potential Renal Acid Load research (PRAL). This is not an accurate source for the purpose of the net-acid-or-alkaline effect of the food on the body. The reason for this is, to test for PRAL they basically burn the food at an extreme temperature and then take a read of the 'ash' that is left behind and what it's pH is.While this does give a read of its alkalinity from the mineral content of the food, this is only half the picture. By burning it at such a high temperature they also burn away all of the most acid-causing content of the food, namely sugar. That is why on some charts high sugar fruits are listed as alkaline. Bananas for instance are high in the alkaline mineral potassium, BUT they are also 25% sugar which makes them very acidifying when we consume them.
Net Effect: the other mistake other charts make is they only consider the pH of the food before consumption, which, really, is totally useless. I don't care about the pH of a food item as it sits there in nature, I care about the acid-or-alkaline effect it has on my body once I've consumed it! This is why you'll see some charts list lemons, limes, tomatoes etc as acidic, when in reality they are alkaline-forming to the body once digested. The alkaline mineral content of these foods far outweigh their acid (usually citric) content.
There are some other unproven theories circling around 'hybrid foods' that you really don't need to take notice of (that's a guide for another day).
But basically – these are the two principle reasons why there are differences in the charts.
Remember – most charts are around 80% the same, but these differences can be key.
For instance, you don't want to be overconsuming fruit, especially not in juices or smoothies, as the level of fructose would be highly inflammatory and acid-forming to your body (see more on the alkaline diet and fruits here for a full explanation of this)
This is the main difference between the alkaline food charts and it comes down to one simple thing:
Some charts determine acidity or alkalinity on the food before it is consumed & others (like mine) are more interested in the effect the food has on the body after it has been consumed.
Personally, I have no interest in what a food is before I've eaten it – I want to know whether it will alkalise or acidify my body. Make sense?
Some stand out examples include fruit, as you mentioned, such as banana – but another great example is the low sugar fruits such as tomato and lemon. These are listed under the PRAL charts as acidic, and in their natural state they are – but they are very, very alkalizing once consumed and are a really integral part of the alkaline diet – featuring in hundreds and hundreds of recipes.
I hate to think of the amount of people there are out there who are eating a heap of high sugar fruits every day and are not getting any tomato, avocado, lemons, limes etc.
Some people I have spoken to even eat ONLY fruit for half of the day. They are literally living the acid diet, not the alkaline diet! This is far too much fructose for your body (particularly the liver) to handle!
When you eat too much fructose (and I do recommend checking out the guide I posted above about fruit and the alkaline diet) this places a lot of stress on the liver. While other sugars can be metabolised throughout the body, only the liver can metabolise fruit.
Here's a quick answer to the question of "Can I have fruit in my green drink" I recorded as part of one of my Q&A "Ask Ross" Sessions for my Alkaline Base Camp membership:
How the Foods Are Classified on My Acid / Alkaline Food Charts
I have classified over 400+ foods from Strong Acid, through Neutral, up to Strong Alkaline in my Acid/Alkaline Food Charts. You can get the charts for free here (plus 21 alkaline recipes and other guides too) to check it out.
The way these foods have been classified is using a mixture of all of the tools we have available. I've 'triangulated' if you will!
It's based on my 15+ years experience in this field, and access to other brilliant researchers, scientists, nutritionists and the work they have done, particularly live blood microscopy, with their patients.
My process uses:
PRAL as a starting point
Then adjusts for sugar content
Factors in the food's natural-state pH
And the food's mineral content
And finally the effect the food has instantaneously on the blood once consumed (as per microscopy).
This, I believe, gives you the most well rounded, accurate chart to follow.
If you have any questions at all, or would like me to include a new food that's not already in there, please feel free to post this below in the comments!
Ross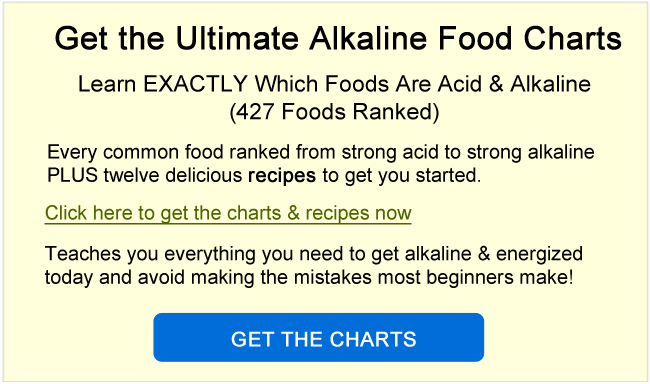 Further Reading
The Seven Most Alkaline Foods
The Seven Most Acidic Foods
The Top Ten Alkaline Diet Questions Answered
The Alkaline Fruits Guide
Can You Get TOO Alkaline?