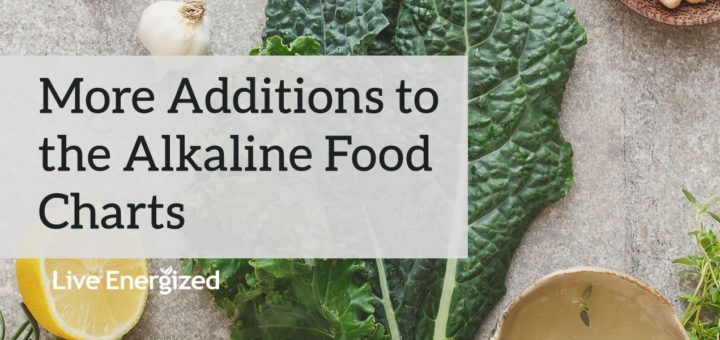 Hey guys
Since I sent out my Definitive Acid/Alkaline Food Charts I've had a bunch of emails asking about foods that are not covered on the list, so I thought I would put them all together for you into one simple guide. When you're kicking off on the alkaline diet – it can seem confusing and a bit overwhelming as to what can and can't be included.
This guide I made called 'The Simple Alkaline Test' can help you out in making the judgement call when you're out, shopping or at a restaurant, but please generally try to stay a bit relaxed with it. You don't need to be perfect, and you can make a few mistakes along the way and still get amazing results. It's a long game 🙂
Banana – acid forming as it is rather high in sugar. Although it contains the alkaline mineral, potassium, the sugar overrides this alkaline effect. If you're wondering about fruits, and whether fructose could really be all that bad, check out my guide to sugar and healthy alternatives here.
Papaya – less acid forming than banana but still should be seen as a treat, albeit a treat with vitamins!
Mango – as with papaya
Mangosteen – I love mangosteen. It is reasonably high in sugar so would be moderately acid forming, but good for a healthy snack every now and then once in balance. I ate a few in Thailand over the past few weeks, delicious.
Pineapple – very high in sugar, probably the most acidic of all fruits
Oats – about neutral. I sometimes enjoy oats cooked in water and a little coconut milk for breakfast. It is a good start to the day! Check here for my Alkaline Oats Recipe where we take simple oats and turn it into a super alkaline breakfast.
Spelt – contains gluten so definitely one to be avoided. You really want to avoid all gluten-containing grains.
For more about grains click here to see my guide
Fat-Free Yogurt – all dairy is acid forming, so try to stick to non-dairy alternatives such as coconut yoghurt. You definitely still need to check the nutrition panel on these dairy-free products because they can be high in sugar. And as a note – ANYTHING THAT IS "LOW-FAT" or "FAT FREE" is usually SUPER HIGH in sugar – avoid these like the plague.
Goats Milk Yogurt and Goats Milk Cheese – less acid forming than cows as they have less lactose, but should be transitioned out and kept as a treat if really needed. There are such delicious nut milks now, you can really easily ditch the dairy.
Soy Beans – mildly alkaline.
Soy Sauce – almost always fermented in the manufacturing process, and so acidic. Tamari is a better choice – but Bragg Liquid Aminos is even better and tastes almost identical.
Sprouted Beans – alkaline, go for it with sprouts! They are absolutely AWESOME! I especially love broccoli sprouts for their sulfurophane content. Here's my guide to sprouting.
Kelp – alkaline and nutrient dense. Try to include it where possible, although I know it won't be easy! Often used in powdered green drink supplements. All sea vegetables are super alkaline and chlorophyll rich.
Black eyed peas, borlotti & pinto beans – all mildly alkaline if prepared yourself. Canned beans are slightly more acid forming, but should be used sparingly as a good source of protein.
Protein powders: rice, pea, whey, soy. I prefer organic sprouted brown rice protein powder if I feel the need for a protein hit. Definitely do not use whey protein if you want to stay alkaline.
Miso – fermented, and so acid forming.
Tempeh – as with miso and soy sauce, tempeh is fermented and so is acid forming. It is a handy protein-rich food to have once a week or so, a little doesn't hurt.
Quinoa – a great swap for rice and can be added to salads and heaps of other meals to increase protein intake. Unusually for a plant, quinoa is a complete protein. It's also high in fibre. I have quinoa several times a week, if not daily.
Chia Seeds (Salba) – nutrient dense (especially good for omega 3 and fibre) and should be included daily. I love these seeds!
If you have any other foods please leave me a comment in the comments section below. Just add your name, email and enter your comment and hit the submit button. I will answer by adding all of your requests into the list above!
Thanks and have a great week
Ross