Fast Alkaline Breakfast Recipes
How great would it be leaving the house in the morning knowing you had already had the perfect balance of nutrients your body needs?
To know you had set your day up to be a huge win, after only 5 minutes spent in the kitchen (we all know how busy mornings can be)…?
Having the RIGHT breakfast makes an incredible difference to you energy, cravings and performance throughout the whole day.
And the food decisions you make within that first hour of waking are crucial.
Get it wrong and your hormones and blood sugar, your metabolism and energy levels, your digestion and brain performance – these all get stuffed and face a huge uphill battle to recover.
But get it right and the day is effortless.
As always, my whole approach to the alkaline diet and getting you to your health goals is simple: just give your body the tools it needs to thrive and it will repay you tenfold.
What Makes the Perfect Breakfast
Upon waking, your body starts the day's cycle – your blood sugar levels and insulin levels, cortisol levels, metabolism, the balancing of the melatonin that ends the sleep cycle and prepares the next…these all run on cycles, starting with you waking – and most importantly WHAT you eat for breakfast and WHEN you eat it…
To properly nourish the body and get it set up for success your breakfast should try to follow at least these rules while eliminating the foods below:
Eat within 60 minutes (preferably 30 minutes) of waking
Include protein – at least 7-8g
Include fibre, any kind is fine – soluble, insoluble and resistant starch – a mix is best
Healthy fats – this is critical: coconut oil, omega 3, and a combination from olive oil, avocado, nuts, seeds etc
→ And eliminate these breakfast energy killers:
Gluten containing grains – wheat, rye, spelt (i.e. toast, pop tarts, pastries, regular breakfast cereals)
Sugar – particularly fructose-containing sugar (flavoured yoghurts, jams, regular breakfast cereals, fruit juice) – see more on sugar here
Dairy products (milk, yoghurt)
Processed meat (bacon, sausages etc.)
If you can hit these rules and avoid these energy killers you will soon notice how incredible you're SUPPOSED to feel in the morning!
Three 5-Minute Breakfasts That Tick Every Box
So today I'm giving you my three faves that meet all of these criteria and get you off to a FLYING start.
By consuming one of these three fast alkaline breakfasts every day you will notice very quickly that you have improvements with:

Memory & mental focus
Staying fuller for longer and no snack attacks mid morning
Far less sugar & carb cravings
Better moods
Weight loss (if needed)
Soothed digestion and reduction of reflux conditions
Calmed inflammation, aches and pains
And because breakfast can be such a hectic time getting out of the door – I have tailored and developed these recipes to make them FAST and easy.
Let's do it:
Breakfast 1: Perfectly Balanced, High Alkaline Breakfast Smoothie
This is a consistent favourite in my house, and with visiting friends and family too. It tastes delicious, contains greens but doesn't taste of greens, and has everything you need to get the day off to the PERFECT start:
This recipe contains 12g protein per serve and 18.5g fibre – which is over half your daily needs and from a blend of sources, which is ideal. If you include the kidney beans you're going to be over 20g and include that resistant starch too.
And fats…from the coconut oil, cashews, almonds, avocado, chia, greens…you're getting plenty!
---
Breakfast 2: Creamy Coconut & Vanilla Bircher Pots
The second of our fast alkaline breakfasts is a pre-prepared beauty is a thing of wonder. Containing an abundance of everything you need to get moving and balance your body's processes, cycles and ignite the metabolism – this tastes like a real treat.
---
Breakfast 3: Chai-Infused Quinoa Porridge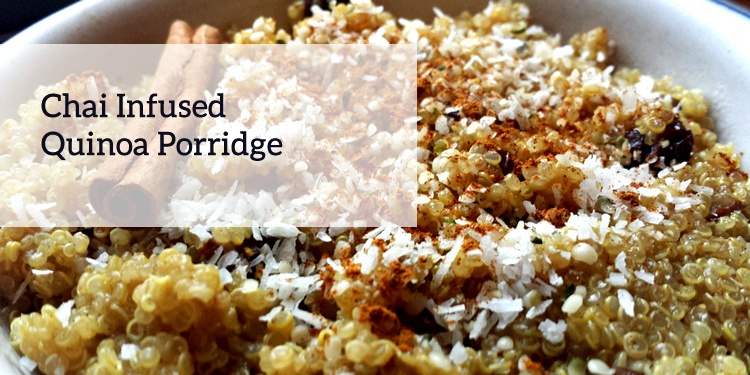 This chai-spice inspired quinoa porridge is HUGELY anti-inflammatory while having those important protein/fibre/fat-rich ingredients too.
It's a warming option for everyone reading this in winter!
---
Without the Right Nutrients at Breakfast the Body Goes into Hormonal, Acidic, Inflammatory Turmoil…
If you've ever had daytime fatigue, mid-morning and mid-afternoon slumps and sugar cravings, disturbed sleep or difficulty getting to/staying asleep, easy weight gain but difficult weight loss, poor memory or concentration during the day, aches and pains….
Your breakfast could easily be the culprit. The hormonal imbalances caused by a lack of (or the wrong kind of) breakfast are devastating and far-reaching.
If you don't get these healthy fats, fibre and protein at breakfast your blood sugar and insulin will go on a haywire journey of spikes and troughs…knocking on to your cortisol levels, with high cortisol needed to mop up the damage of the high insulin…needed because of the high blood sugar…
The constant need for insulin (for the high blood sugar) and cortisol (for the high insulin) completely stresses your adrenals, which knocks on to the thyroid, pituitary…and practically every other area of your hormone-regulating system (your endocrine system).
All you've got to do it stick to these three, super-fast, super-simple breakfasts and you're going to be thriving!
Sometimes having an energised body and reaching the health of our dreams is a LOT easier than we've been led to believe – and getting breakfast sorted is one of those things.
Keep it simple and let's do this!
Ross
Read Next: The "Bulletproof" TEA that's adrenal-healing, alkaline, anti-inflammatory and will make you FLY in the mornings!