Alkaline diet supplements, chosen wisely, can take your health, vitality, weight loss, muscle gain, inflammation out, pain out and energy goals to the next level…quickly.
The wrong supplements?
Well, they are just a massive waste of money, and a little heartbreaking.
Which leaves me with two goals:
I don't want you wasting your hard-earned money
I DO want you getting to your goals faster
Today I'm going to give you the lowdown on the supplements I use, those I've used before with great success, what I look for in a supplement and what I believe to be the core, most important for you on the alkaline diet.
But First: An Important Message About Supplements
While I love supplements, and they've been a huge part of my life since I was about 19, you need to know the truth:
Supplements, taken alone, will do little to nothing to advance your goals.
Taking supplements without changing your diet and lifestyle is like spending money on a sports car and putting no petrol in it. You're wasting your money and getting no results.
I cannot emphasise this enough:
Supplements are there to SUPPLEMENT, not replace.
They are not intended to replace the work of a healthy, alkaline diet. They are not there to do the heavy lifting for you – they barely work if thrown into an unhealthy environment.
BUT…
When you nourish your body correctly AND use supplements, the benefits are magnified tenfold.
They work together synergistically. In the right environment the supplements can get to work, the body can use them more effectively and more efficiently, the goodness can be absorbed.
Supplements are there to supplement, they're there to either be a safety net of nutrients you need but may have missed that day, or they are there to play a specific role alongside the foods and drinks you consume.
OK – supplements are there to supplement, not replace. Excellent, we've got that covered. You're on board, right?
Sweet.
Core Alkaline Diet Supplements
There are four core alkaline diet supplements I recommend everyone consider. Two that are an absolute must, and another two which are a great help, but if budget constraints don't allow these, you should focus first on #1 and #2.
After my guides earlier this week on my Alkaline Food Planner and the Ultimate Guide to Snacks – where I briefly touched on supplements, I got a ton of emails asking for more information – so I hope you guys find this super useful in making sure you get the best product you can AND don't waste any money on unnecessary products!
Alkaline Diet Supplements #1: Green Drink
This is the big-boy, most important supplement. I recommend this for everyone.
A green drink is a powdered supplement, usually made of a combination of grasses, vegetables, fruits, algae and other foods.
The combinations range from just one food (wheatgrass, barley grass, spirulina etc.) through to dozens (some contain over 50 different ingredients).
I recommend looking for something in-between – about 8-10 ingredients is a good sweet spot. That way you're not spreading the nutrient spectrum per serve to wide and thin.
I list at the bottom of this guide my suggestions on how to find a quality supplement – and with green drinks it's paramount that you source an organic, non-GMO blend. There are no excuses on that one.
There are a few ingredients I don't love to see in green drinks too:
High Fruit Content: a little is OK, preferably there isn't any. Low sugar fruits like tomato, lime, lemon, grapefruit are fine, but I don't like to see a lot of higher sugar fruits in there
Mushrooms: again, a little medicinal mushroom is fine (reishi, cordyceps etc), but I don't like this to be a big component
Xylitol: this sweetener is highly refined and not really tested long-term for human health. Makes a good toothpaste, but not proven yet as a safe sweetener
A perfect blend in a green drink hits all of my 'Triple A' goals: alkaline; antioxidant rich and anti-inflammatory.
This is why I personally use Alkamind Daily Greens right now – it has strong alkaline (wheatgrass etc.), antioxidant (beets etc.) and anti-inflammatory (turmeric) ingredients, and tastes awesome.
And of course, it ticks all the boxes in terms of quality, organic, non-GMO.
I really felt the difference when I started using it.
Ross' Recommended Green Drink:
---
Alkaline Diet Supplements #2: Fats & Oils
These are the second (and equally) most important of the alkaline diet supplements. And the truth is – they're really a food – you can add tons of different sources of these to your recipes – BUT – they are so important that I highly recommend you supplement too.
You need a baseline of these daily – so, every day, I really urge you to get:
3 tbsp of omega 3 oils
1 tbsp of coconut oil or MCT oil
If you're concerned that the fat will make you fat – or that saturated fats from the coconuts will cause CVD – please read these two guides:
1) Fat, Calories & The Real Weight Loss Equation
2) The Cold TRUTH About Saturated Fat
For the other oils, the omega 6 and omega 9, the PUFAs and so on – don't worry about supplementing with these. Most people get way more omega 6 and 9 than they do omega 3 (and this imbalance causes issues in it's own right). So just focus on the 3's and the coconut oil.
In terms of omega 3, please try to buy the very best you can afford. You really do get what you pay for.
You need to find a high quality, tested, researched source if you're buying fish oils, and organic is a must for plant oils.
For coconut oil, definitely go organic and make sure it's 100% coconut oil (nothing else added).
Ross' Recommended Oils:
---
Alkaline Diet Supplements #3: Anti-Inflammatory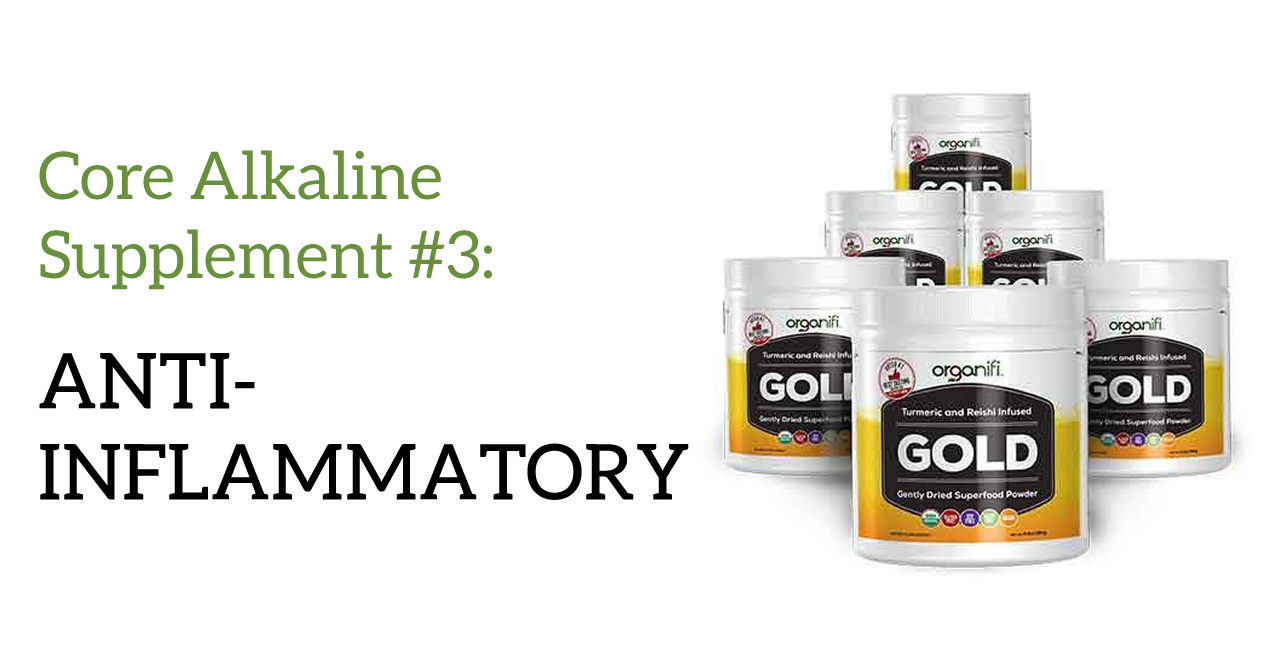 Oh so important to fight inflammation!
Turmeric – most often advertised as curcumin is perhaps the most powerfully anti-inflammatory compound on Earth and I highly recommend getting yourself a high-power, high-quality turmeric supplement as soon as you possibly can.
Curcumin is the compound within turmeric that has the strongest anti-inflammatory capacity, which is why it is isolated from the whole root for supplementary purposes, but when people say curcumin or turmeric supplement, they're effectively saying the same thing.
There have been over 800 published research studies showing the anti-inflammatory power of curcumin, and you just can't go without it while you're fighting inflammation (or wanting to keep it out).
Ross' Recommended Anti-Inflammatory Supplement:
---
Alkaline Diet Supplements #4: Alkaline Mineral Salts
The core alkaline minerals are ESSENTIAL for fighting inflammation, acidity and oxidative stress in the body, and I definitely recommend supplementing with these.
They are minerals that are often a little low in a regular 'multi' vitamin product, but they're so important throughout the body, and many of us are deficient in at least one of them.
Magnesium and potassium are often so lacking in the diet, and a chronic deficiency in just these two is such a marker for inflammatory conditions.
If you can have one of these (just one scoop) daily – it will bring a remarkable, noticable different to your health (especially with digestive or fatigue conditions).
Look for a product that contains a mix of 3 or more of the Core Four Alkaline Minerals – sodium, potassium, magnesium and calcium.
Ross' Recommended Alkaline Mineral Supplements:
---
Alkaline Diet Supplements #5: Plant-Based Protein
For those of you who need extra protein due to a specific condition or (more likely) a specific workout/fitness/conditioning plan – I recommend plant-based protein.
Whey protein is highly acidic and inflammatory, as is soy protein isolate (which is highly refined and processed).
Plant based (sprouted brown rice, pea, sachi inchi, hemp etc.) proteins are exceptional, deliver a huge amount of protein per gram and have an exceptional amino acid profile.
Plus, they're anti-inflammatory and alkaline!
Ross' Recommended Alkaline Protein Supplement:
---
What To Look For In a Supplement: Markers of Quality
Now, more than ever, we have access to some of the most unbelievably high quality supplements. BUT, costs of manufacturing, access to marketing and an audience (social media, paid traffic, amazon's marketplace etc.) means it's never been easier to start a supplement company – and so there are a lot of poor quality, cheaply produced products out there.
You need to be aware and be careful.
Especially in the alkaline diet supplements market – where green drinks have become so popular.
I have recommended two green drinks in this guide – but a quick search on amazon.com reveals 325 different brands, and that's just in one category.
How I Measure Quality in a Supplement
Is It Organic & Non-GMO: cheaper brands won't bother with this, so first up, it's a good way to filter out any cheaply made products immediately. But also – it's so important! If you're buying a product like a green powdered blend – this is a highly concentrated plant food! Each scoop contains a LOT of greens, and you don't want to be putting concentrated GMO crops or chemically sprayed plants into your system!

Organic and non-GMO is an absolute must.

Variety of Ingredients: this is most pertinent with green drinks, where you want a good mix of grasses and vegetables. This is highly preferably to just one ingredient, such as wheatgrass, as you're getting a wider spectrum of nutrients.
No Sugars: this is a must. Sugar basically undoes all of the good work of the supplement! A tiny amount of fructose free, natural sweetness is OK – monkfruit (luo han guo), stevia, or dried peach etc., but don't get a supplement containing dextrose, fructose, cane sugars, honey – and even worse (as I've seen in the effervescent vitamin products) – aspartame!
No Fillers, Thickeners, Binding Agents, Flow Agents…: this is a whole guide in itself (and one I'll probably write in a few days or so), but you need to be looking out for:

Magnesium Stearate
Stearic Acid
Carrageenan
Gelatin
Titanium Dioxide
Silicon Dioxide
Lanolin
Glycerin
Potassium Sorbate
Cellulose

There are more, but that's a good start. I don't have the time here to go into the negatives of each of these, but the big picture is: if your supplement contains these ingredients, you really should question the quality of that supplement.
Summary: Your Alkaline Diet Supplements
The purpose of this guide was to give you an overview of the most important alkaline diet supplements, which I believe you should focus your resources on, and to make sure you don't waste a single penny on supplements you don't need.
Remember, supplements are there to supplement. They are not there to replace a healthy, alkaline diet.
Supplement companies are AMAZING marketers, and they can make all manner of different products and ingredients sound like the 'magic button'. And while there are useful supplements for specific goals – caprylic acid for getting rid of candida for example.
BUT, you don't need to spend a fortune to get some amazing products that will speed up your efforts and make getting to your big health goals faster and easier than ever.
Ross