This high-potassium juice could be a life-saver for millions of people…
Last week I sent you a video and guide explaining how your sodium-to-potassium ratio was the biggest risk factor for heart disease, and how 95% of people have it completely out of balance.
We HAVE to consume way more potassium than we do sodium, but because of our reliance of packaged, processed foods – we're doing it completely the wrong way around. Instead of a ratio of 2:1 up to 4:1 potassium to sodium, most people are consuming more around 6:1 sodium to potassium!
Research has proven this to be the biggest risk factor for heart disease. Not total salt consumed. We have spent the last 30-40 years worrying about how much salt people are eating, when the research has shown this to be almost irrelevant. It's the balance of potassium to sodium that is most important.
I explain everything in the guide here: Sodium-to-Potassium Ratio & Heart Disease
Getting Enough Potassium Can Be Hard!
If you're not already consuming a diet that is rich in green, alkaline foods, veggies, salads, leafy greens, nuts, seeds, healthy oils and so on (see my guide to the 7 Most Alkaline Foods here – they're all rich in potassium, and download my Definitive List of Alkaline & Acid Foods Here) – then getting enough potassium daily (at least 4,000mg) can be tricky.
It's abundant in fresh, natural foods – but very low in processed foods.
So these two high-potassium recipes are a HUGE help – they will help you to 50% or more of your daily potassium needs before you've even left the house in the morning!
I've included both a High-Potassium Juice and a Potassium-Rich Smoothie because I know not everyone has both a juicer and a blender – so there is no excuses!
Recipe #1: High-Potassium Juice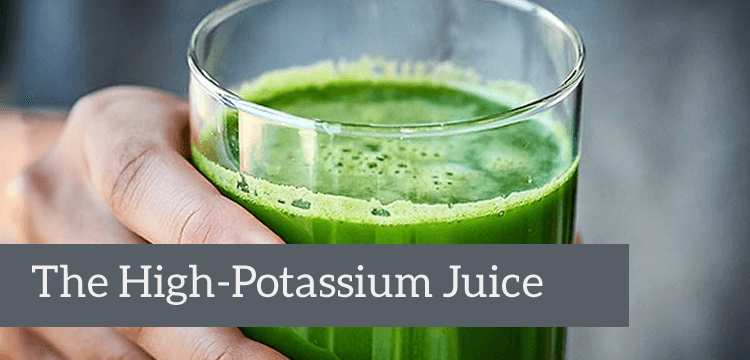 Ingredients
Serves 2
1 cucumber
2 sticks of celery
75g spinach
75g kale
½ bell pepper
2 carrots
Coconut water or filtered water to taste
Potassium Content: 1921mg
Instructions
Simply wash, chop and juice the ingredients! Serve with a squeeze of fresh lemon if it's too green-tasting for you!
---
Recipe #2: High-Potassium Smoothie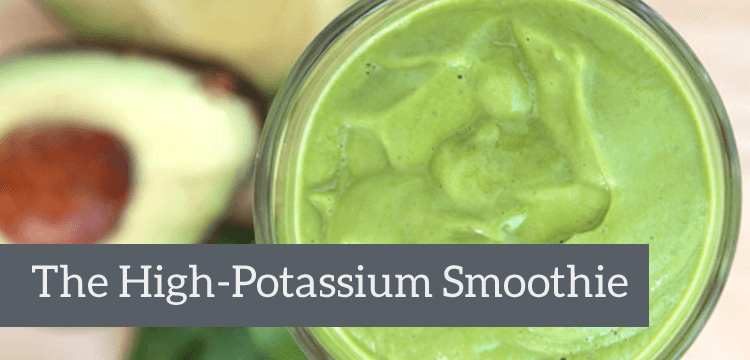 Serves 2
Ingredients
1 avocado
1 cucumber
75g spinach
75g kale (stalks removed)
50g romaine lettuce
2 tomatoes
Coconut milk or water to taste
1tbsp coconut oil
Potassium Content: 2334mg
Instructions
Wash, chop and blend the ingredients together! Add more coconut milk or coconut water to get the taste you're after.
---
These serve 2, so feel free to make the whole quantity, and keep one for tomorrow or later in the day as a snack. If you have TWO times the High-Potassium Juice or Smoothie during the day – just this will meet your daily potassium needs. How great is that?
Remember – you can get the full low-down on the importance of your potassium-to-sodium ratio here.
Related Resources
The Alkaline Recipe Centre
The Definitive List of Alkaline Foods
The Alkaline Diet Explained & Simplified
The Alkaline Recipe System & Meal Plans
The Seven Most Alkaline Foods to Include & Seven Most Acidic Foods to Avoid
Why You HAVE to Quit Sugar