This high-potassium juice could be a life-saver for millions of people…
Last week I sent you a video and guide explaining how your sodium-to-potassium ratio was the biggest risk factor for heart disease, and how 95% of people have it completely out of balance.
We HAVE to consume way more potassium than we do sodium, but because of our reliance of packaged, processed foods – we're doing it completely the wrong way around. Instead of a ratio of 2:1 up to 4:1 potassium to sodium, most people are consuming more around 6:1 sodium to potassium!
Research has proven this to be the biggest risk factor for heart disease. Not total salt consumed. We have spent the last 30-40 years worrying about how much salt people are eating, when the research has shown this to be almost irrelevant. It's the balance of potassium to sodium that is most important.
I explain everything in the guide here: Sodium-to-Potassium Ratio & Heart Disease
Getting Enough Potassium Can Be Hard!
If you're not already consuming a diet that is rich in green, alkaline foods, veggies, salads, leafy greens, nuts, seeds, healthy oils and so on (see my guide to the 7 Most Alkaline Foods here – they're all rich in potassium, and download my Definitive List of Alkaline & Acid Foods Here) – then getting enough potassium daily (at least 4,000mg) can be tricky.
It's abundant in fresh, natural foods – but very low in processed foods.
So these two high-potassium recipes are a HUGE help – they will help you to 50% or more of your daily potassium needs before you've even left the house in the morning!
I've included both a High-Potassium Juice and a Potassium-Rich Smoothie because I know not everyone has both a juicer and a blender – so there is no excuses!
Recipe #1: High-Potassium Juice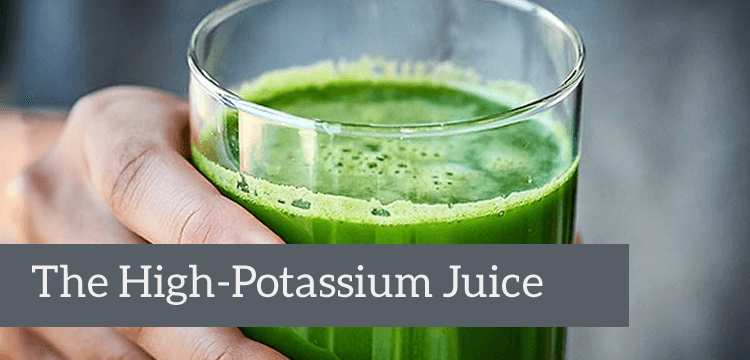 Ingredients
Serves 2
1 cucumber
2 sticks of celery
75g spinach
75g kale
½ bell pepper
2 carrots
Coconut water or filtered water to taste
Potassium Content: 1921mg
Instructions
Simply wash, chop and juice the ingredients! Serve with a squeeze of fresh lemon if it's too green-tasting for you!
---
Recipe #2: High-Potassium Smoothie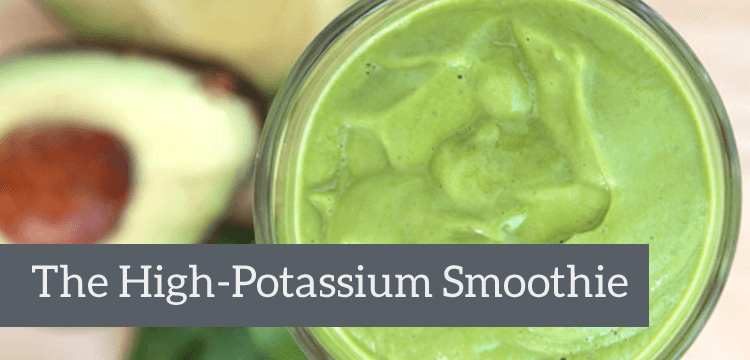 Serves 2
Ingredients
1 avocado
1 cucumber
75g spinach
75g kale (stalks removed)
50g romaine lettuce
2 tomatoes
Coconut milk or water to taste
1tbsp coconut oil
Potassium Content: 2334mg
Instructions
Wash, chop and blend the ingredients together! Add more coconut milk or coconut water to get the taste you're after.
---
These serve 2, so feel free to make the whole quantity, and keep one for tomorrow or later in the day as a snack. If you have TWO times the High-Potassium Juice or Smoothie during the day – just this will meet your daily potassium needs. How great is that?
Remember – you can get the full low-down on the importance of your potassium-to-sodium ratio here.
Related Resources
The Alkaline Recipe Centre
The Definitive List of Alkaline Foods
The Alkaline Diet Explained & Simplified
The Alkaline Recipe System & Meal Plans
The Seven Most Alkaline Foods to Include & Seven Most Acidic Foods to Avoid
Why You HAVE to Quit Sugar
Do You Want to Turn Your Health Around in Just 7 Days for Just $1.99?
If you love the look of this guide and the benefits it will bring, check out my book The Alkaline Reset Cleanse. It's a gentle, enjoyable seven-day Cleanse that will completely transform your health and life. Abundant energy, dramatic weight loss, digestion healed, inflammation gone...these are all results my students have experienced from doing their Alkaline Reset Cleanse...
LIMITED TIME OFFER: The Alkaline Reset Cleanse Book is Just $1.99 (Kindle/eReader) -- Click to order now and get over $120+ of extra alkaline training from me!
Real Results from the Alkaline Reset Cleanse Book:

---