From running energiseforlife.com I get dozens of emails every day from people who have questions about the alkaline diet. There are so many people out there who are really excited about starting on a path to acid alkaline balance but who have a reason (sometimes called an 'excuse') not to get started. And this is such a shame because these reasons are often founded on shoddy science, misconceptions and lies from the naysayers.
I've been studying and working in this area for long enough now to have an extremely thorough understanding of the principles, science and practical application of the acid/alkaline diet and so here it is –
The Top 5 Myths of the Alkaline Diet
Myth #1 It's Impossible To Stick To
This is simply not true. In fact, through my Alkaline Diet Course, I've proven with thousands upon thousands of people that it is, in fact, really easy to stick to. You just need to understand the rules and get organised. Here are my top five tips:
Transition: my experience and research has shown over and over that the success rate of people transitioning to this diet and lifestyle is SO MUCH higher when you transition gently rather than going cold turkey.
Focus on the Core First: to begin with, don't worry too much about getting everything right straight away, just focus on the few core things that will instantly start making a big difference. Firstly, make sure you have 3-4 litres of good quality water each day. Secondly, ensure you have a big salad with every lunch and dinner. Finally cut out one big vice – not all of them, but one. Take it step by step.
Be Organised: this is probably the most important thing – get yourself organised, get your week of meals planned and shop for it. Until you get used to living alkaline you can't just go shopping randomly and hope you get the right food in, you have to be prepared.
Snack Healthy: always make sure you've got healthy snacks on hand so you don't fall into the trap of "Oh I'm hungry, but there is nothing healthy to eat. OK I better have this biscuit/chocolate bar/chips to stop myself feeling hungry. Damn, thats not alkaline – I'll start again tomorrow – I promise".
Exercise! Even if just a little – exercise is such a good rewarding, empowering and positive reinforcing behaviour. I've found that people who exercise 3-5 times per week are WAY more likely to stick to other healthy new habits than those who just try to change through diet alone
Of course, I've written the Alkaline Diet Course to cover all of the above (you get daily menus, weekly shopping lists, exercise guides, daily schedules etc) – so if you feel like you need a hand click here to find out more about it.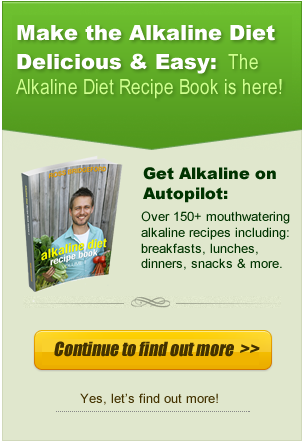 Myth #2 Meals Are Boring
Again – REALLY not true. Having written an about to be published Alkaline Recipe Book I can promise you that this isn't the case. Just a quick flick through the recipes here on the blog will show you that too.
We've got delicious:
…and more alkaline recipes here!

You can make almost any meal alkaline with a bit of thought and creativity. And if you're stuck for ideas, the Energise Alkaline Diet Recipe Book will be launched soon and you can register here for a discount.

Myth #3 You Can Never Have Treats Again

I've blogged about this at length before and here is the crux of it:

I believe that success with this lifestlye is guaranteed when you don't change who you are at your core. You should still be social, you should still have treats, you should still be naughty, you should still enjoy life!

I guarantee that you are FAR more likely to succeed if you are 80% great and 20% relaxed than if you try to be 100% perfect.

Still go out for dinner. Still have a glass of wine. Still enjoy your espresso.

If you try and be perfect you will almost always fail in the long term.

Myth #4 You Don't Get Enough of….protein, dairy, calcium, calories etc

This is a classic myth about almost every type of vegetarian diet and it is so flippin outdated. In fact, with regards to the alkaline diet it makes no sense whatsoever. I have no reason why people believe that if you, basically, don't eat meat and dairy you will somehow be unhealthily not getting enough of something. Nothing could be further from the truth.

In fact, on an alkaline diet I can promise you that you are getting an abundance of every vital nutrient you need – including protein.

The most eaten foods on an alkaline diet (dark leafy green vegetables, nuts, pulses, seeds etc) are all very rich in protein and give you just as much as you need. Even an extremely active sports person can supplement (the same way as meat eating sports people do) with hemp protein powders, and of course tofu and soy milk is acceptable on this diet too.

The concept behind dairy is ridiculous in terms of it providing calcium (that you somehow miss if you don't drink milk). Alkaline foods are alkaline because they are packed full of the most alkaline minerals on earth: magnesium, calcium, sodium and….CALCIUM. In fact, studies have proven that drinking lots of milk has no impact on bone strength and Dr Young has shown that excessive dairy or any other animal protein (to which milk is a significant contributor in the Western diet) is directly responsible for osteoporosis.

I can promise you, again, that you get more than your adequate supply of calcium on an alkaline diet, and in fact, when you don't consume so many acids you bones will be stronger anyway!

As for calories, again, I've been living this way for many years and I am never going without calories! Calories are almost redundant on this diet as you can eat as much as you need to and get such a good source of energy from the essential fatty acids (omega oils) you consume, along with the abundance of fresh veggies, salads, nuts, seeds etc.

I promise you, living alkaline will give you so much more energy than ever before, you seriously won't be worried about calories any more.

Myth #5 It's Only for Weight Loss
This is one I can understand, because historically people who want to lose weight go on a diet, right? Weight loss has always been the only reason to diet, hasn't it?! This is why it is a shame that this approach to health was dubbed "The Alkaline Diet" or "The Acid Alkaline Diet" – because really it is more holistic and long term than that.
I prefer to call it "The Alkaline Lifestyle" but that scares some folks off 😉 (what – it's, like, forever?)
So when you get past the fact that it has the word "diet" in the title here are the facts:
Fat is not a calorie problem, it is an acid problem. When you are over-acidic one of the most visual symptoms will be over OR under weight. When you alkalise you find your ideal body weight. If you are already slim, you won't get slimmer – you'll reach your ideal weight. If you are large, the fat that has been hanging on to protect your organs from the acids will drop away.
You seriously don't need to worry about fat loss if you're already slim.
So what else? As you can see from the testimonials page from the Alkaline Diet Course – this approach to health has been particularly positive for people with symptoms of:
Candida
IBS
Fibromyalgia/Chronic Fatigue
Eczema
Psoriasis
Acne
Low Libido
Low Mood
Poor Mental Clarity
Stronger Emotions
Thyroid Issues & more!
Dr Young's summary is, in my opinion, very motivating!
Your energy will increase, you'll find new mental clarity and powers of concentration, you'll build strength and stamina, and you'll lose excess body fat while increasing muscle mass. You'll have bright eyes and clear skin. You'll look better. You'll improve your athletic performance. Your entire body will function more efficiently.

Whatever health challenges you've been facing will improve and most likely evaporate altogether. In short, you'll regain all the effortless energy and wellness you thought was lost with your childhood."
SO there you have it – starting and living alkaline is easier that you'd thought!
If you have any questions at all, feel free to leave them below and don't forget to browse the blog! There are heaps more articles in here!
Have a great day
Ross