When you're living alkaline, or ANY healthy lifestyle – motivation and your frame of mind are the most important things to manage.
As I mentioned in my last post, momentum and mindset are critical to make sure you make the right choice at 80% of your daily decision points. When you're hungry mid morning and someone offers you the cookie jar – what do you do? When you get home from work and your partner suggests pizza – what do you do? When you're late for work in the morning and thinking about grabbing toast on the run rather than something fresh and healthy – what do you do?
But perhaps even MORE dangerously – when you're tired, stressed, busy, had a bad day and want to give up on this healthy lifestyle – how do you keep that momentum and motivation going.
– How do you get through these times?
Being able to stay at least moderately on track during your weakest times and least motivated times is the key to success or failure.
And in this new guide I am going to teach you my Five Simple Tips to Make (an Alkaline) Life Easy!
These tips will see you through the tough times and make the good times even easier! I hope you like them and I hope you use them!
TIP #1 DRESSINGS:
In my Beginners Guide to the Alkaline Diet (click the link to sign up) I outlined five core things to start doing right away to get your alkalinity off to a rapid and impressive start, and one of those was to eat a side salad with every meal.
This is such a great tip because it will, regardless of what else you do, take your green leafy vegetable intake from 0 to 5 (at least) right away.
The downside is, you risk getting fed up of eating so many salads all the time OR if you try to vary the salads too much they could end up taking too long to prepare.
So here is the solution – delicious dressings.  I think that a dressing makes the salad.  You can have a salad of JUST leaves and if the dressing rocks, the salad will go down a treat.
What I want you to do is always have at least 3 dressings you love, preprepared.  There are lots of dressings on the blog & I want you to make three of them, and bottle them up and put them in the fridge.
Alongside the recipes you have, you can also simply make flavoured olive oil by bottling up some good quality olive oil with any of the following: basil, rosemary, garlic, chilli or thyme.
Get creative – it will be well worth it!
Here are a few dressings to get you started:
TIPS #2 SAUCES FOR VEGGIES
This is similar to the first tip, but it involves making a few different alkaline, raw sauces you can dress your veggies with – So when you're pushed for time or ingredients you can simply steam or grill a big pile of vegetables and make it delicious with the sauces!  Again the recipe book contains a few of these, so when you make one, make at least 6-8 serves and keep the remainder refrigerated, or even freeze a giant batch in an ice cube tray.  This allows you then to defrost them one serve at a time!
Imagine grilled Mediterranean vegetables topped with a red pepper and tomato sauce, served with a little couscous and coriander.  YUM!
TIP #3 HERBAL TEAS
Hydration is SO important but can take a little getting used to!  If you've been dehydrated for a long time (as the vast majority of people have) then it can take a while to even form the habit of drinking enough.
To begin with people so often WANT to get hydrated but end up at 9 o clock at  night kicking themselves because they simply FORGOT to drink enough!  
OR they just get bored of plain old water.  In both cases, herbal teas are your friend!  Here are my best, alkaline herbal teas and just think – having just 5 cups of tea per day would give you around 1.5-1.7 litres of alkaline hydration!   
So if you start the day with 500ml, remember to have 500ml after lunch and dinner and again in the evening, when you add that to your cups of tea you've already hit 3 litres – which is a great start!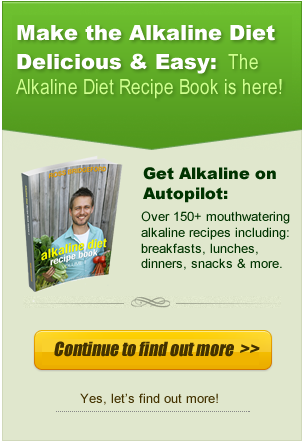 TIP #4 MAKE 2x WHAT YOU NEED
This is a great one for busy people (everyone nowadays, right) and those who lunch out-of-the-home.  Just simply make 2x more for dinner 2-3 times per week and freeze the leftovers for lunches or snacks.  
In fact, it is actually often more useful for the snacks.  If I get peckish during a busy day it's great to go back to my leftovers supply and have an instant, alkaline snack.  And of course, even better if served with a deliciously dressed side salad too!
TIP #5 WHAT TO DO IF YOU'RE HUNGRY…
This is a big one, especially on a weight loss journey, and it would be so easy to get this wrong and think it's the best thing to do.
Never – ever – ever go hungry.  If you are hungry, eat.  
When you're hungry you will start putting your body into that starvation mode, slow down your metabolism and make weight loss so much more difficult. It also makes your body go into an acidic state to go hungry as your body has to begin sourcing nutrients from within.
Use the tips above to make sure you've always got snacks available and if you're ever desperate, you'd be surprised how filling a handful of nuts and seeds actually is – don't forget those little nutritional wonders!
When you're on the alkaline path, you can always eat until you're satisfied – you don't have to fear overeating alkaline foods!
So below this article you can leave me your comments and if you have any questions – just ask away!