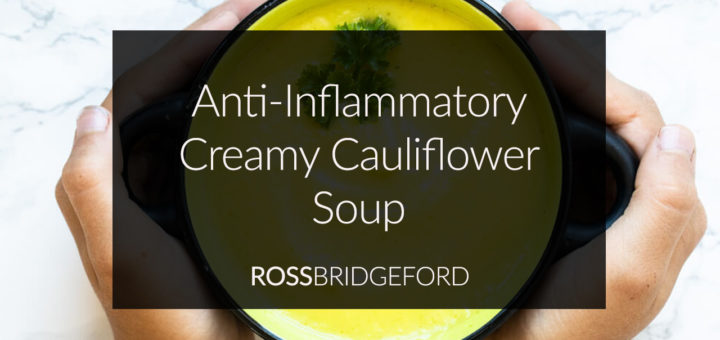 Anti-Inflammatory Cauliflower Soup
This is a massive hit with my family and the members of my Alkaline Base Camp coaching group. It's so nutritionally dense and SO satisfying, you can have it, again and again, hot or cool – it's a hit 365 days of the year.
The goodness runs deep on this one:
It's a good one. It's delicious. Try it asap and let me know if you love it in the comments!
Anti-Inflammatory Creamy Cauliflower Soup
Serves: 2

Ingredients:
2tbsp coconut oil
1 small brown onion, diced
1 medium cauliflower, cut into florets
1 leek, chopped
1cm root ginger, grated
1cm root turmeric, grated
1 tbsp hemp seeds
3 cloves garlic, crushed
800mL veggie stock
1/4 cup cashews
Organic olive oil, to serve
Optional (but tasty): sprinkle with chopped chives to serve
Method: Anti-Inflammatory Cauliflower Soup
Heat the coconut oil in a large pot over medium heat and add the onion, leek, turmeric, and ginger and gently saute for 4-5 minutes.
Add the cauliflower, cashews, stock, hemp seeds, and a generous pinch of salt and pepper and bring to the boil.
Once boiling, reduce to a simmer and cook for 20 minutes, or until cauliflower has softened. Remove from heat and cool slightly.
Finally add the garlic, and then blend until thick and creamy. Serve with a drizzle of olive oil and season to taste.
This is a fantastic one warm or cooled, so suits all seasons! Packed with goodness, it's one to really savor.
See Also:
Ross' Anti-Inflammation Diet Guide
Ross' 21 Most Popular Recipes
Turmeric Lemonade Recipe