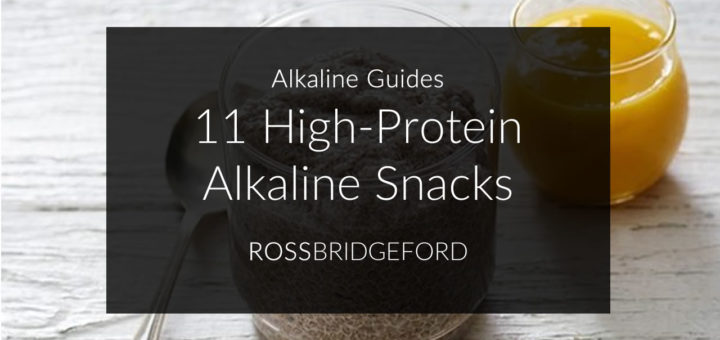 Not having healthy (and just as importantly DELICIOUS) snacks is one of the main reasons people give up and slip up with their healthy alkaline diet.
Especially the alkaline diet, where most folk's go-to snacks are confined to an acidic bin: toast with jam, cereals, muesli bars, sugary stuff, dairy and so on…
If you've had more than one experience where you've been hungry, there's been nothing healthy in the cupboard…and you've ended up blowing out and eating unhealthy for the rest of the day (or week!) – this guide will change your life.
With a few simple snacks in your armoury you can get past those hunger hits and energy dips and not only keep yourself going until your next meal but actually FUEL your body even more!
These 11 alkaline snacks are delicious, portable (so you can take to work with you) and HIGH protein – meaning they'll boost your energy and keep you going for longer!
Aim to embed just 3 or 4 in your life (shop for these ingredients specifically – especially snack #1, #3 and #5) then you will ALWAYS have a go-to snack whenever hunger hits!

---
11 High Protein, Alkaline Snacks to Take On-the-Go!
1. Celery & Almond Butter Boats
I am happy to find any excuse to put almond butter on stuff, and really what could be easier or better than stuffing a little celery boat with this magnificent butter? The celery is highly alkaline and full of fiber, the almond butter is fat and protein-rich – and these powers combined makes for an awesome snack.
To make this incredibly simple snack, all you need to do is cut the celery stalk into 3-4 inch lengths and spread with almond butter!
And as optional extras you could sprinkle with cinnamon for a blood sugar levelling benefit, sprinkle with turmeric for an anti-inflammatory hit or even sprinkle with other seeds for more crunch and more healthy fats!
Protein Content: 3 tbsp almond butter with 1 of celery slices: 7.8g protein
---
2. pH Boosting Protein Shake
You don't have to hit the whey (or any protein powder) to get a good protein hit from a smoothie. You can keep it vegan and alkaline and still get 15g of protein per glass.
Try my pH Boosting Protein Shake:
Serves 2
Ingredients
1/2 avocado (2g protein)
1 cucumber (2g protein)
2 handfuls of spinach (2g protein)
1/2 cup of soaked almonds (soaked overnight, you can skip this step if you have a VitaMix) (15g protein)
1/2 cup of chia seeds (6g)
1/2 can of kidney beans (13g)
350ml coconut water or filtered water
2 dessert spoons of coconut oil
Protein Content: 15g protein per glass
---
3. Creamy Coconut Chia Pots
These delicious little pods of joy are SO fantastic you could have them for dessert – yet they're remarkably healthy, alkaline and filling.
A combination of chia soaked in coconut milk, coconut yoghurt
You can get the full chia pot recipe here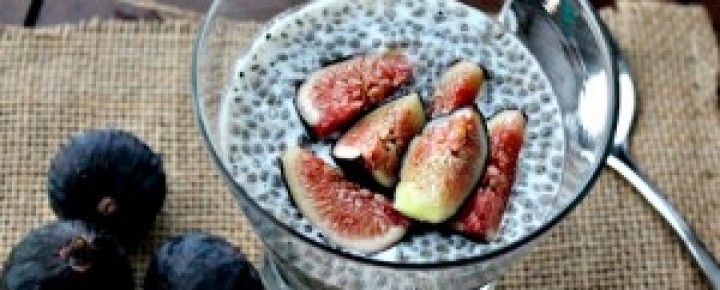 Protein Content: 7g protein per pot
---
4. Mixed nuts
Perhaps the easiest of them all – but so oft forgotten. Simply mix almonds, pistachios, cashews, brazil nuts, etc. for a big protein hit in an easy form.
If you like, and remember, you can soak your nuts first to make them plumper, more creamy, and more bio-available.
Just a couple of handfuls of nuts can literally put hunger away for another hour while energizing and nourishing your body.
Protein Content per Handful of Nuts: almonds, pistachios, cashews, brazils = 7g protein.
---
5. Hummous & Crudite Salad Jar
A fantastic portable snack, and remarkably simple. All you need to do is fill the bottom third of a mason jar with hummous (homemade hummous recipe here) and then add sticks of bell pepper, carrot, cucumber, etc. This makes for a largely raw, alkaline, fiber-ful, filling and protein-rich snack!
The chickpeas/garbanzos give the hummous a huge hit of protein, heaps of magnesium, fibre, folate and a very unique variety of antioxidants, whilst also being great for your digestive system, anti-cancer, anti-inflammatory and blood sugar-stabilizing.
You can even mix it up and add MORE protein using my Black Bean Hummous Recipe here too…
Protein Content: 8g protein per jar serving
---
6. Energy Crackers w/ Hummus
These easy-to-make crackers are my new best friend. It's simply a combination of chia seeds and other seeds (think pumpkin seeds, sesame seeds, sunflower seeds etc) with water and a little spice for flavoring (cayenne pepper, cumin, chili or even some crushed garlic) mixed and baked on low heat.
It makes a delicious, filling, nutrient-dense snack that keeps you going for ages. Very moreish too!
The recipe is flexible, but if you use the following this will make about 12 decent sized crackers/shards:
1/2 cup chia seeds
1/2 cup sesame seeds
1/2 cup pumpkin seeds
1/2 cup sunflower seeds
1 clove of crushed garlic
1/2 teaspoon cayenne pepper
Salt & pepper to taste
1 & 1/4 cups of water
And get the oven on at 300ºF. Then simply mix it all together and wait ten minutes for the chia seeds to soak up all of the water. Then using a spatula spread it on a sheet of baking paper on a baking tray. Now, using the spatula divide it into 12 sections and then put it into the preheated oven for half an hour – take it out, flip it and bake for 25 more minutes. It's done once it's golden and crackable.
You can eat on its own or with avocado, dips like hummous or even as a regular cracker, and whatever you'd normally have on a regular cracker 😉
Protein Content per 3 crackers with hummous: 9g protein
---
7. Toasted Quinoa Bites
This is another 'throw a bunch of stuff together and gently roast' recipe – but perhaps even easier than the chia crackers above.
This funny little snack is kind of like a very basic granola, but it works a treat. Have it as a topper to coconut yogurt, or just eat it by the handful – it works great both ways.
In an airtight container, it will keep for weeks, making it the perfect food to leave in your drawer at work as an anytime snack.
Try mixing 1/2 cup quinoa, 1/4 cup shredded unsweetened coconut, 1/4 cup pumpkin seeds, 1 tablespoon of ground flax, 1/2 teaspoon of cinnamon and drizzle the lot with rice malt syrup. Toast in the oven for about 10-12 minutes at 425F or until it's crisp but not burned.
Protein Content: 9g protein per handful serving
---
8. Simple Pumpkin Seeds
You don't just have to have them raw. Once scooped out of your pumpkin (and you can use the pumpkin to make this soup) you can roast the pumpkin seeds separately with your choice of savory flavour.
I like to roast in coconut oil with crushed garlic, cumin and turmeric.
Protein Content: 9g protein per serve (28g)
---
9. Edamame
Always my favorite part of any Japanese meal – people literally have to slap me down with chopsticks to prevent me from eating the entire bowl within 60 seconds of it landing on the table. Protein-rich, these little pods of wonderment are a great snack. Steam and enjoy, or simply defrost and cook before taking to work with you in an airtight container. Sprinkled with salt is my favorite, but you can top with a little chili oil too to make them extra awesome.
Protein Content: 15 grams protein in 1 cup edamame sprinkled with Himalayan salt
---
10. Superfood Protein Balls
These little balls pack a huge punch. Packed with goodness and an abundance of protein, all you have to do it blend and roll! They taste like a real treat, and they ARE a real treat, but they are amazing for you and will lift your energy and banish the hunger for hours.
What's more – you can make a batch and freeze or store in the fridge for up to 4 days. I personally like to freeze them and then take 2 or 3 into the office with me, and by mid-morning they've defrosted and are ready to eat!
1/2 cup almonds
1/3 cup pepitas (pumpkin seeds)
1/3 cup walnuts
1/4 cup black sesame seeds
1/3 cup chia seeds
1/4 cup almond butter
1/2 cup tahini
1/4 cup coconut palm sugar
Simply blend and roll into balls! Makes about 15.
Protein Content: 9g protein from 3 balls
And here is my new Raw Bliss Balls recipe which is also a great alternative and a little more chocolate (from the cacao).
---
11. Savoury Roasted Chickpeas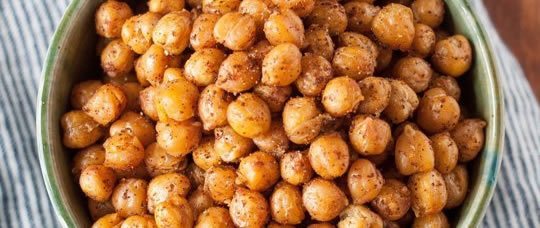 Chickpeas (garbanzos) are antioxidant-rich, anti-inflammatory, alkaline superfoods. Rich in molybdenum (essential in the body's use of amino acids), magnesium, folate, copper, fibre, and more – chickpeas are a fantastic snack – and roasted…they are just divine…
It's so easy to do too, simply rinse and dry the chickpeas (presuming you're using canned) and then put them onto baking paper on a baking tray. Now coat liberally with olive oil and put in the oven at 400F for 20-30 mins.
Once they're done, NOW sprinkle with herbs and spices. Don't do this before roasting as it can much more easily burn.
Play with flavors like chili powder, curry powder, garam masala, cumin, smoked paprika, rosemary, thyme, or other favorite spices and herbs.
Protein Content: 9g protein for 3/4 cup chickpeas
---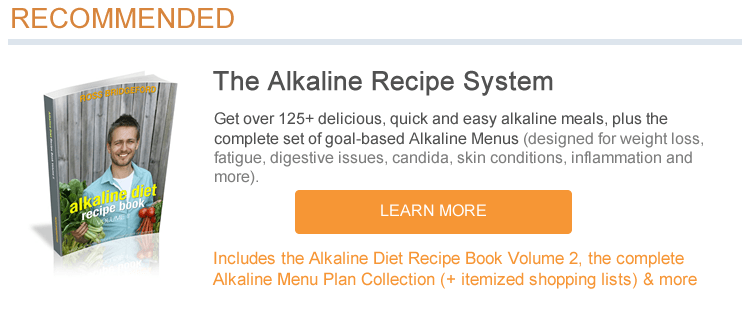 I'd love to hear your healthy snacks below!
Ross