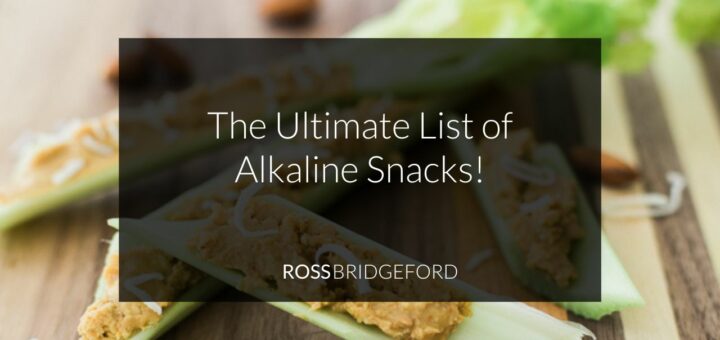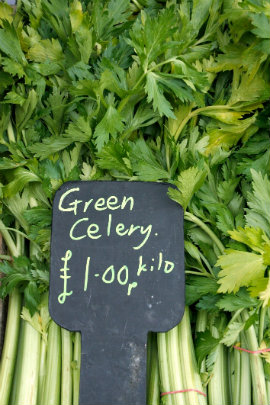 Alkaline snacks are absolutely critical and this guide could be the difference between success & failure for you on the alkaline diet.
As I've said before many times, one of the key pressure points for people in sticking with the alkaline diet or any other health plan or lifestyle is what happens when you get hungry.  Do you default to alkaline foods or acid?
Your Success Is Often Defined By Your Weakest Moments
When you're hungry, you HAVE to eat, and if you leave it long enough – nothing will stop you. You willpower is determined by the stability of the glucose levels in your brain – and when you either don't eat or eat sugar, gluten and processed foods – the brain glucose levels become very unstable. In other words – the longer you leave yourself hungry – the less willpower you have…and the more sugar and junk you eat…the less willpower you have (I have a new guide on willpower coming VERY soon too, by the way).
I am sure this is resonating with you – when you get hungry your standards of healthy eating drop, the more hungry you get.
And if you're not well prepared and well stocked up with healthy, alkaline snacks……you could end up eating anything!
For most people snacking leads them to convenience foods, quick foods, pre-prepared foods:
Confectionary
Biscuits
Chocolate bars
Chips / crisps
Baked goods
Sandwiches
…you get the picture
You tend to grab whatever is easiest, and in almost every case…this is NOT alkaline!
I call this the "Snowball of Doom"…
The Snowball of Doom
It is like a vicious cycle. You get really hungry, there is nothing easy, instant, healthy and tasty to grab, so you eat something naughty. Maybe a biscuit from the office kitchen, or maybe it's a little chocolate to tide you over, or maybe it's one of the kids treats. Your hunger is satiated but then the 'oh well' thoughts kick in.
…oh well, I've been bad today, so I might as well have takeaway for dinner and start again tomorrow. And a glass or two of wine. And desert. Oh, but then I've got dinner out tomorrow night and then it's the weekend, so I might as well start on Monday. But on Monday I'll be REALLY good.
You know what I'm talking about.
The hardest thing for most people when they are trying to live a healthy lifestyle is snacking. Those huger-attacks mid-morning and mid-afternoon when you just need something.
Those times when it is just so tempting to be a little bit naughty – because there simply aren't any tasty healthy snacks!
This might seem a little dramatic, but it is true!
The easiest foods and most convenient foods are usually not too healthy: acidic, gluten/wheat-laden, sugary, processed and nutrient-poor.
Get your snacks sorted and you are SO much more likely to be able to keep yourself in the happy healthy place and stay healthy and alkaline for the long-term, while ADDING to the nourishment rather than taking it away.
The Ultimate List of Alkaline Snacks (plus recipes!)
This is the ultimate guide to alkaline snacks.
This is my so-far-definitive-list of all of the alkaline snacks that I personally use and have available to me 24/7 (or at least 2-3 of these options), so that when I'm:
Hungry…
On-the-go…
Boredom eating!
Between meals
Fresh from the gym or a run…
Stuck at the office…
Or at any other time!
…I will always have something healthy, alkaline and vitality-giving to snack on and get me happily through to my next meal.
I'm about to make healthy living a whole lot easier.
Here's the List: The 15 Most Alkaline Snacks!
1. Bliss Balls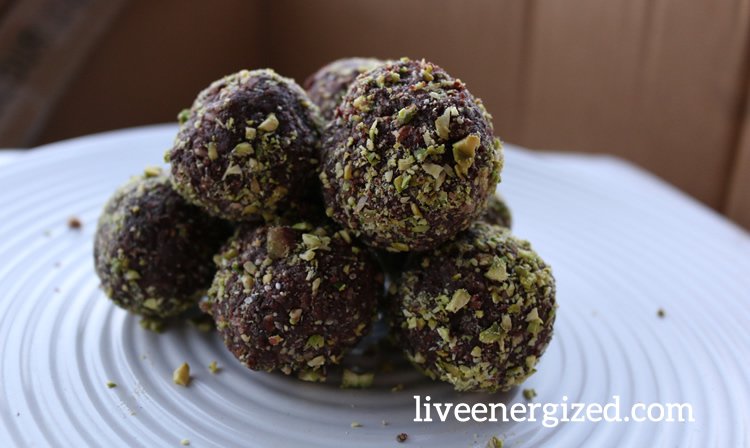 A.K.A protein balls, energy balls, raw power balls etc – they're all similar and are delicious!
These cacao bliss balls are a lifesaver at Bridgeford Alkaline HQ!
These bliss balls are truly delicious, raw alkaline snacks to keep you going, energised and keep your taste buds satisfied!
Let's face it, when you're super-hungry and busy it's THE stress-test to see if you are going to slip up, crack and grab something unhealthy.
Click here to get my Alkaline Raw Bliss Ball Recipe
2. Nuts & Seeds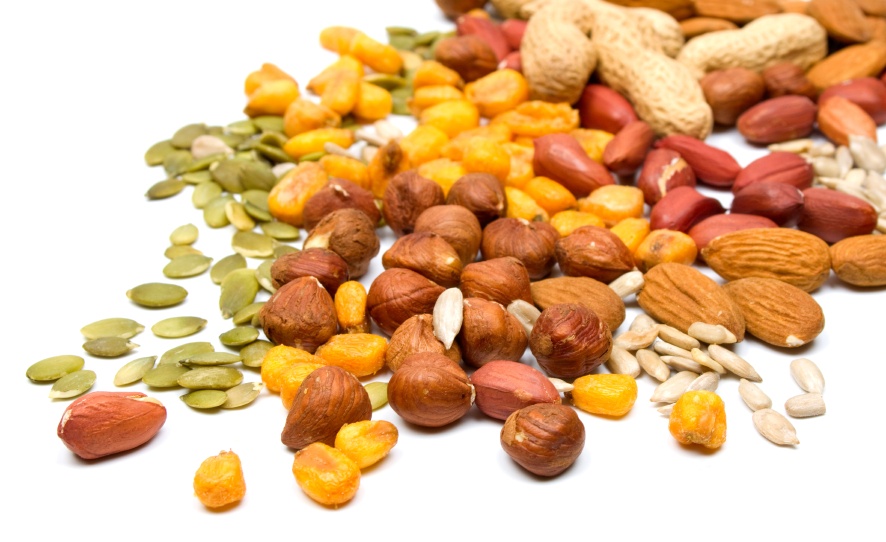 What could be easier and better than a big bag of alkaline nuts and seeds?!
I am always snacking on a nut and seed mix. I have a bag with me wherever I am. In the office, in my bag, in the car, on the run, after the gym, before I go out. Whenever I am hungry I always know I can rely on nuts and seeds. They are a staple of a healthy diet.
You would truly be surprised at how quickly and easily nuts and seeds get rid of hunger and how long they keep you going! A big handful can truly stave off the growling stomach and keep you going for another hour at least.
Rich in proteins, essential fatty acids and more – you should aim to have a good supply of: almonds, pumpkin seeds, sunflower seeds, flax seeds, walnuts etc. on hand at all times!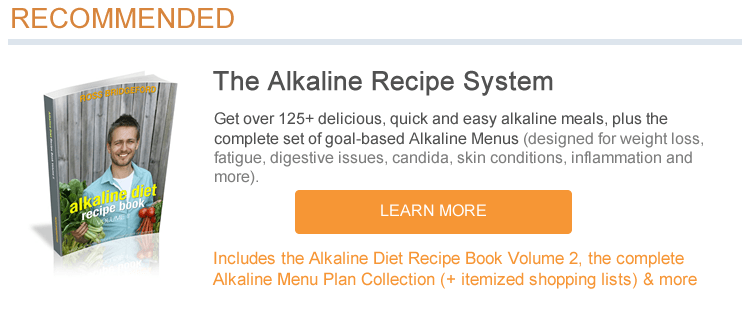 3. Alkaline Wraps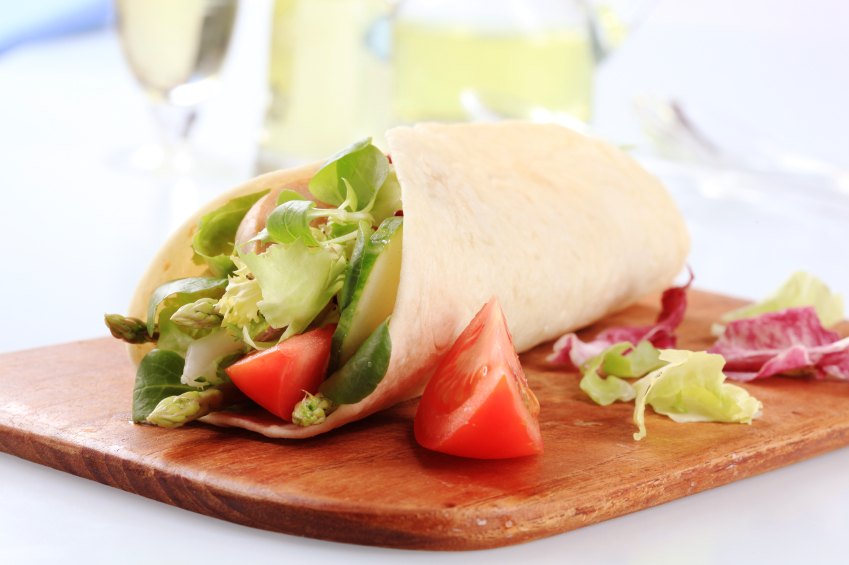 This is probably my favourite alkaline snack, due to it's relative ease, speed and amount it fills you up!
It's so super simple to make. You literally just throw spinach/lettuce (one or both), avocado, tomato, cucumber, capsicum/pepper and some hummus or tahini into a wrap, wrap it up and eat!
It's as simple as that and it fills you up so much, ticks the alkaline snacks box and is super-delicious!
A cool tip is to sprinkle seeds onto the hummus so they stick in the wrap and don't fall out and give you an extra nutrient hit.
In terms of the wrap/bread to use, I recommend sprouted wheat wraps when you can get them (USA residents can order from Alvarado here) – but if you can't find them, just go for the healthiest you can find i.e. wheat free, gluten free, yeast free or any combo of these.
Note: sprouted wheat is gluten free, and healthy, and alkaline – it's just the fully grown wheat we're avoiding.
And if you need it, here's a recipe to try that involves no wrap at all:
The Live Energized Alkaline Wrapless Wrap
4. Alkaline Smoothies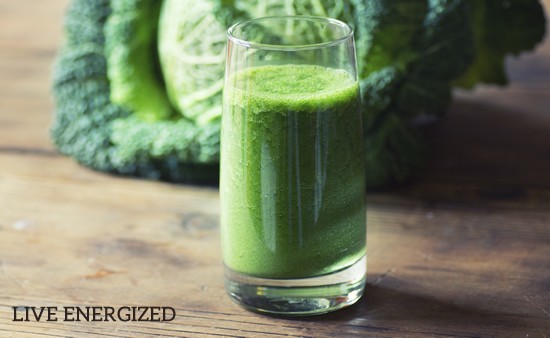 Alkaline, chunky smoothies are one of my favourites. Less than five minutes to prepare and I've got a good pint (or more) of thick, healthy smoothie that easily keeps me going for a couple of hours.
I'd also wager that these smoothies contain your 5-a-day veg in each glass too – so you know you're getting past that minimum amount in one delicious serve.
You can really get creative with the ingredients but my personal favourite is simply avocado, tomato, cucumber, spinach, lettuce and lemon. I have been known to throw in a little bird-eye chilli too 🙂
Try these:
Sweet & Chunky Alkaline Shake
Alkaline Avocado Power Shake
pH Boosting Protein Shake
5. Alkaline Soups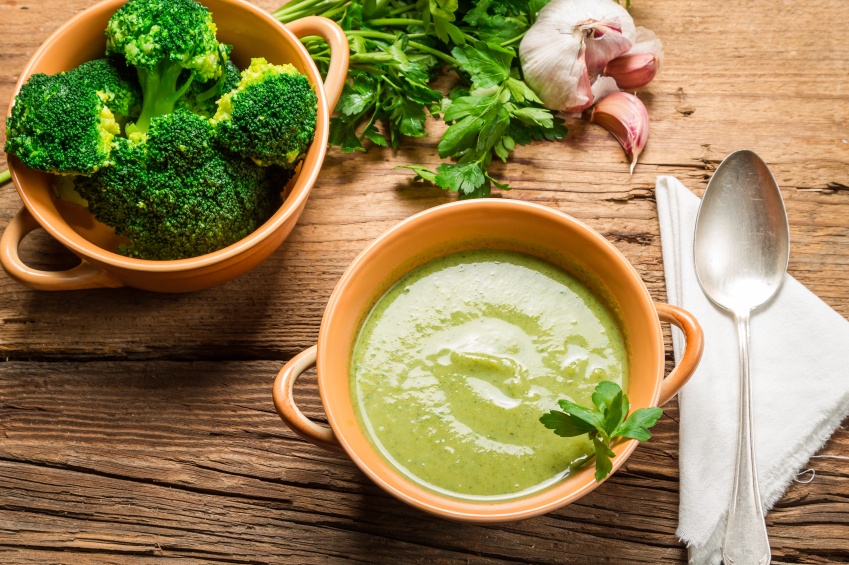 Similarly, alkaline raw (or warmed) soups take less than five minutes to prepare and are like a full meal in minutes. Packed with goodness, they'll keep you going and give you a big nutrient hit.
To make them, it's really just a case of putting the avocado and stock into a blender (I love the Vita-Mix) and creating a base from that, and then throwing the rest of the ingredients in! My go-to recipe is simply that base plus cucumber, spinach, capsicum, a 1/4 clove of garlic and then perhaps some steamed broccoli (adds a bit of warmth). You can get funky with herbs and spices too – I love to grate some fresh ginger in and throw in a little hot red chilli!
Try these on for size. The tomato & pepper one, in particular can be made in under 60 seconds.
Tomato & Sweet Red Pepper Soup
Cucumber & Watercress Soup
Tuscan Bean Soup
Spicy Alkaline Summer Soup
6. Alkaline Juices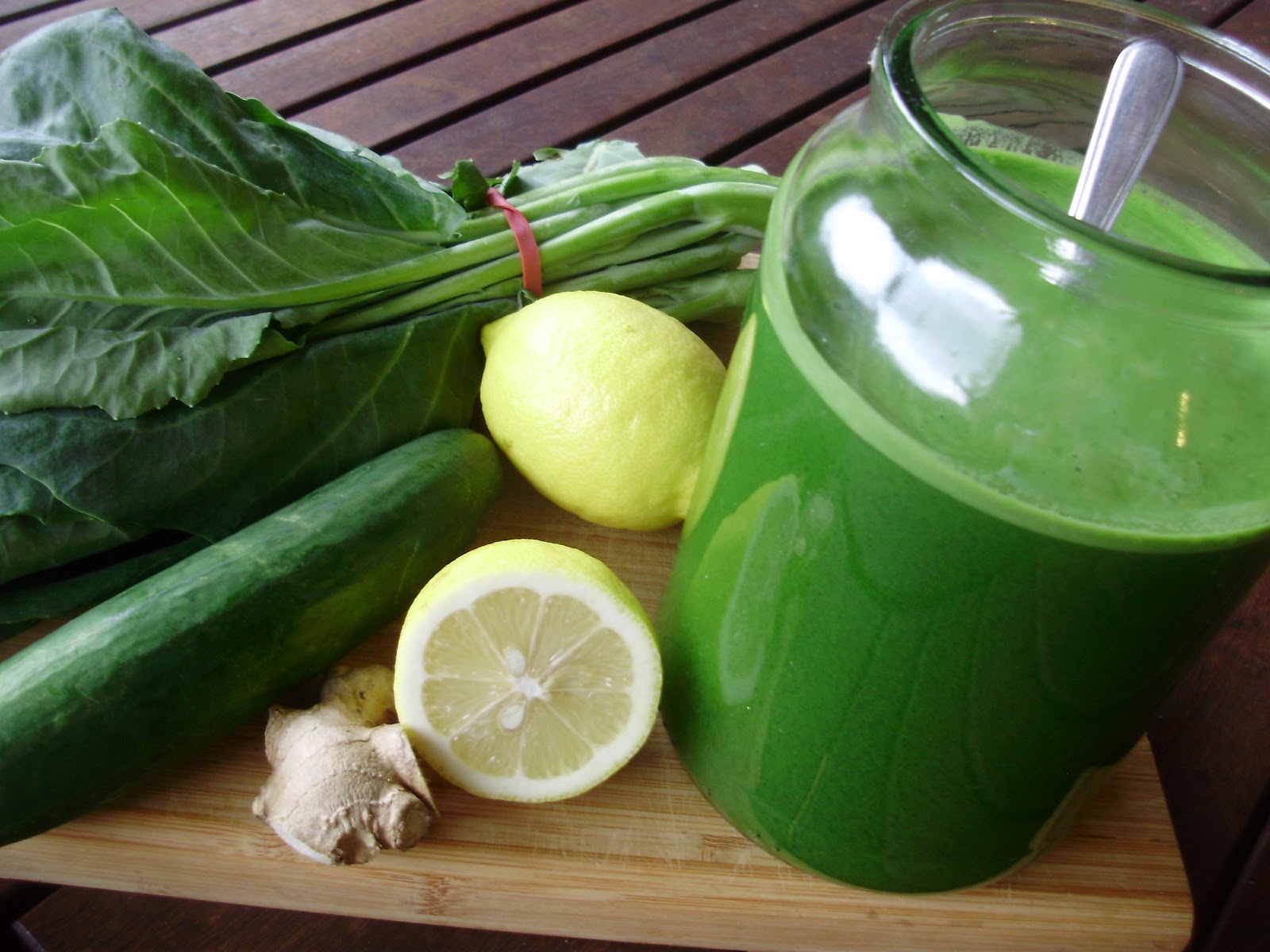 I love to have at least one fresh, raw, green veggie juice per day. Not only does it make a great snack (or meal – keeps me going from breakfast until lunch some days) but it is literally bursting with goodness.
Can you imagine eating a salad of: a cucumber, a carrot, two handfuls of spinach, a tomato, a heap of lettuce, 2 sticks of celery and a heap of kale in 30 seconds?
Juices are the perfect alkaline snack because they give you such a nutritional hit that your body keeps you going for hours and hours on them.
In terms of a juice – I highly, highly recommend the Hurom or Kuvings slow-press juicers.
Try these delicious juice recipes as a snack:
Live Energized Green Drink
Blood Building Vegetable Juice
Immune Boosting Juice
7. Toasted Sprouted Bread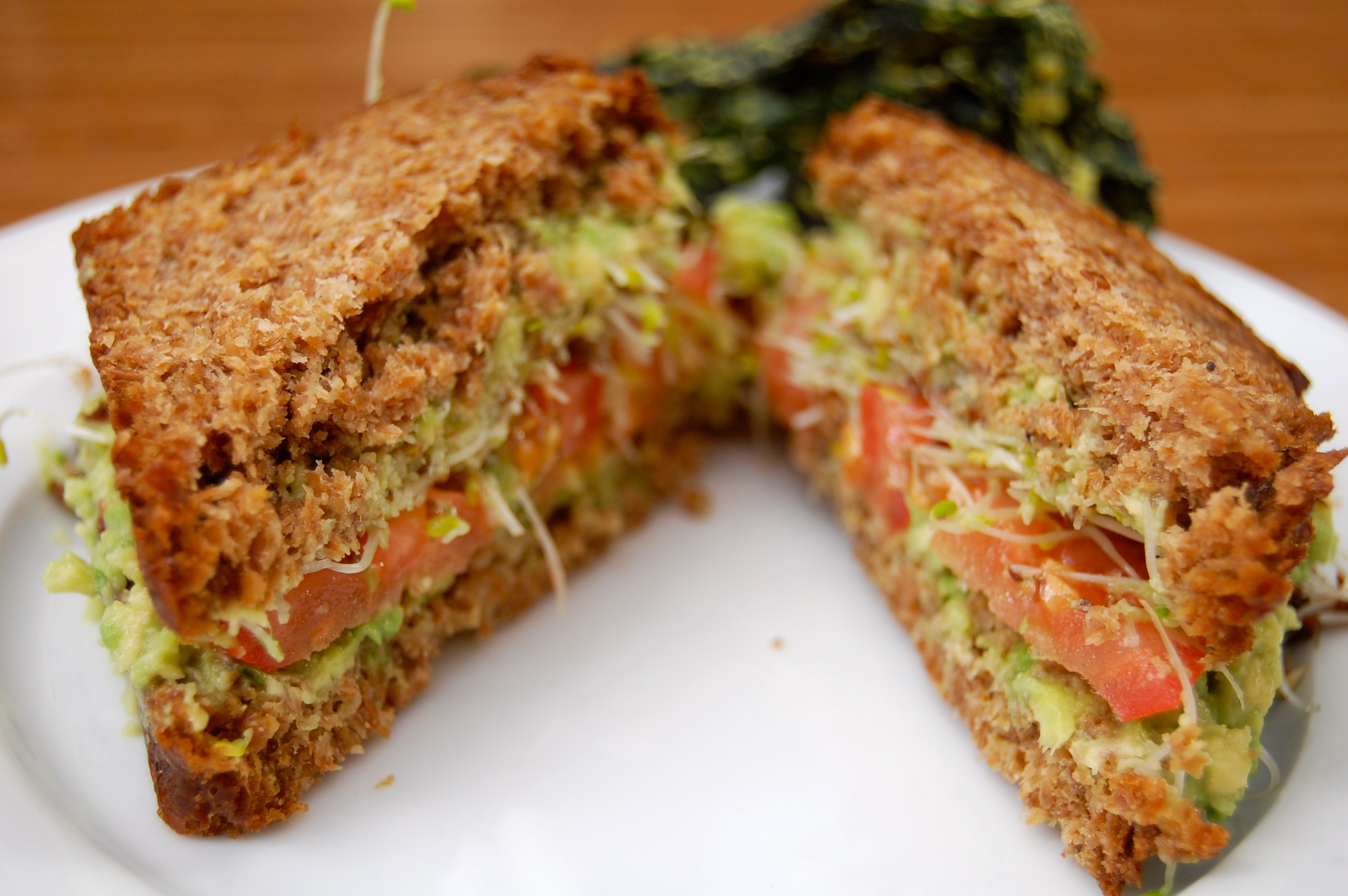 This is an easy one and a winner! Sprouted breads are alkaline, healthy and contain none of the badness of normal breads. PLUS it's delicious toasted with avocado, tomato and other such stuff on top!
My favourite is:
– avocado
– tomato
– some chopped up spinach or rocket (arugula)
– himalayan salt
– olive oil
YUM! It's hot, cold, soft, chewy, smooth – all the textures I love PLUS the great flavours. If you add a little fresh basil too you're in heaven.
Where to get sprouted breads?
UK: Holland & Barrett, most supermarkets these days (Waitrose, Tesco, Morrisons) plus online here at Goodness Direct
USA: most health food shops and, again, at Alvarado St Bakery
Australia: health food stores again and online here
8. Quinoa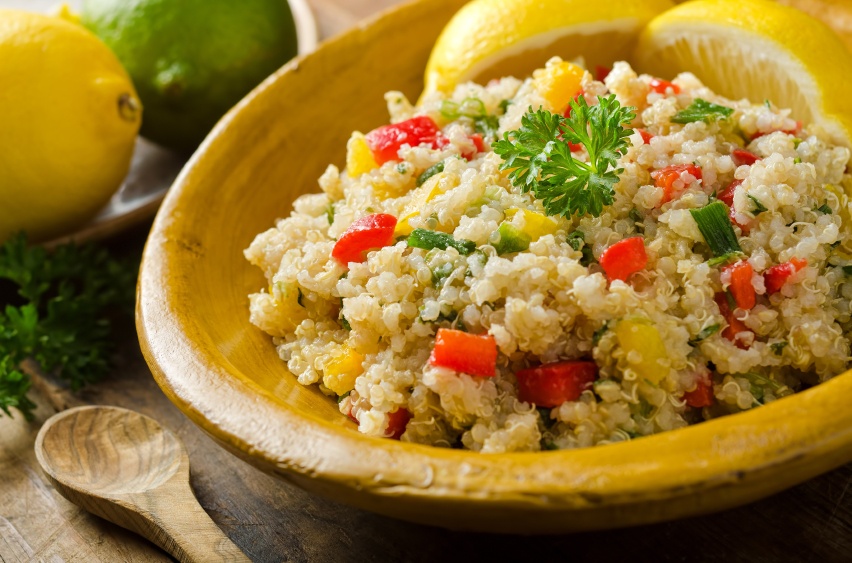 This is a great one because it's much easier than you'd think. Quinoa is so easy to cook and it's gluten-free, protein packed, fibre packed and delicious!
It has a nice warm texture and is the perfect base for so many alkaline meals! Chopped spinach, avocado and tomato again is a huge hit with me and I also like to steam some other greens like asparagus, sugar snap peas or broccoli to put with it (depending on how much time you have).
Drizzle the lot with olive or flax oil and sprinkle with Himalayan salt and you're away!
Here is a delicious quinoa breakfast too:
Alkaline Recipe: Chai Infused Vanilla Quinoa Porridge
9. Fast-Salad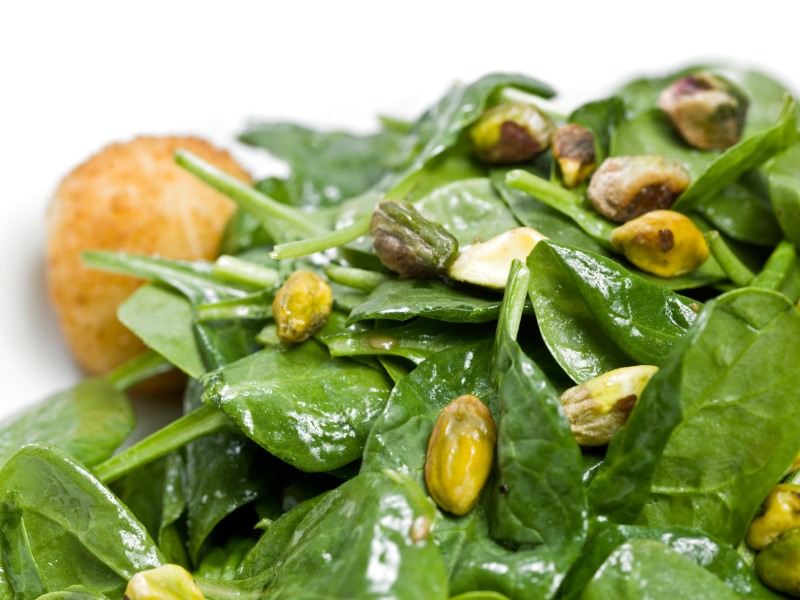 This is a great one because it's so fast and dramatically increases your green foods intake. I've spoken before a lot about how important it is to get enough greens and what a HUGE impact it can make on your life, energy and vitality if you can get seven serves of green foods per day – and this snack definitely helps.
The salad can be as simple or complex as you like, but I like to keep it simple.
Often I'll just have a green leaf mixture (spinach, watercress, rocket (arugula), lettuce and some herbs – any combo of these) and go for it.
Now that may sound boring, so here is the solution – delicious dressings.  I think that a dressing makes the salad.  You can have a salad of JUST leaves and if the dressing rocks, the salad will go down a treat.
What I want you to do is always have at least 3 dressings you love, preprepared.  There are lots of dressings on the blog & I want you to make three of them, and bottle them up and put them in the fridge.
Alongside the recipes you have, you can also simply make flavoured olive oil by bottling up some good quality olive oil with any of the following: basil, rosemary, garlic, chilli or thyme.
Get creative – it will be well worth it!
Here are a few dressings to get you started:
10. Vega Vitality Snack Bars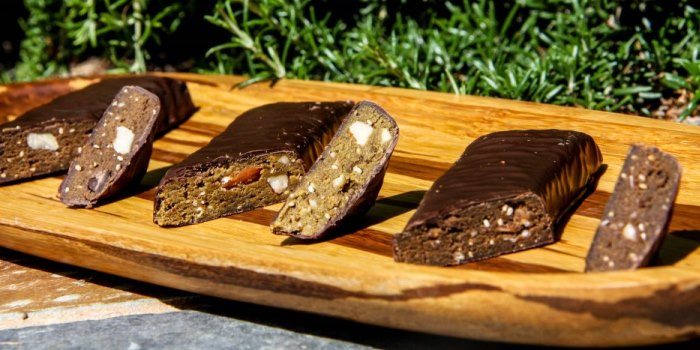 These are officially the easiest, because you don't have to do anything!
My personal favourite are the new Brendan Brazier created, Vega Vibrancy Snack Bars. I love them because they're filling, contain no gluten, are alkalising, contain 10g of protein (great for after the gym) and 40% of your daily fibre needs.
But most of all they're right there, ready to roll when you need them the most.
And they're delicious.
You can read more about these incredible, delicious snack bars here.
And I also recommend looking into Brendan, he's an incredible individual and I hope to interview him soon!
11. Celery w/ Nut Butter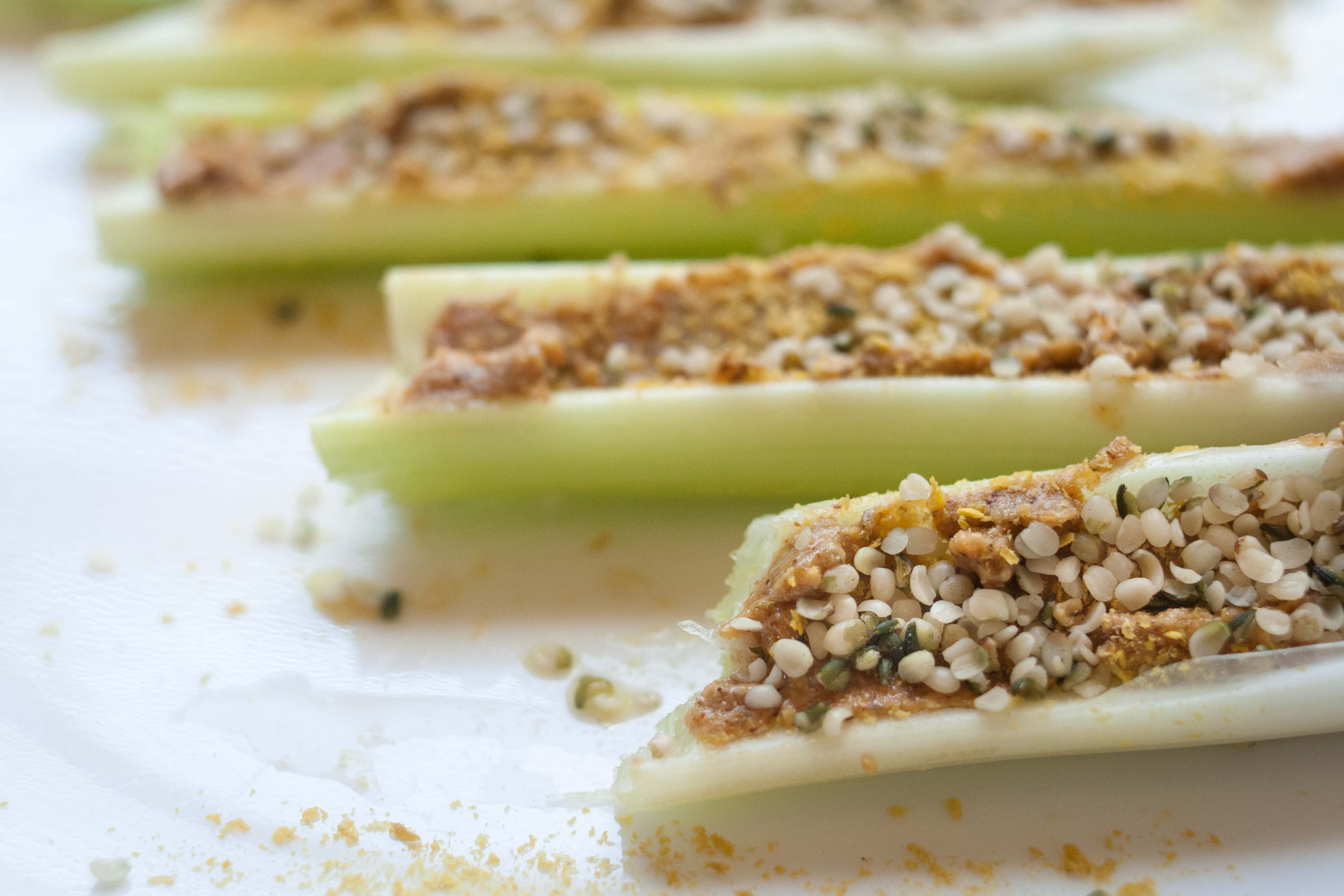 OK, so this one is as simple as:
1) take a stick of washed celery
2) spread almond butter on it
3) eat
It's a brilliant little under-30-second snack that staves off hunger for long enough for you to get sorted. A stick of celery is also officially one serve of green foods – so counts towards your minimum 5 serves right away (preferably you're having seven serves).
This one has saved me many a time, and I have to give full credit to Matt Frazier (Mr NoMeatAthlete) for this one.
You can go an extra step (as per the picture) and sprinkle with seeds or a fibre mix too.
Click here to check out my interview with NoMeatAthlete Matt about alkaline snacks, nutrition and training
12. Lentils with Spinach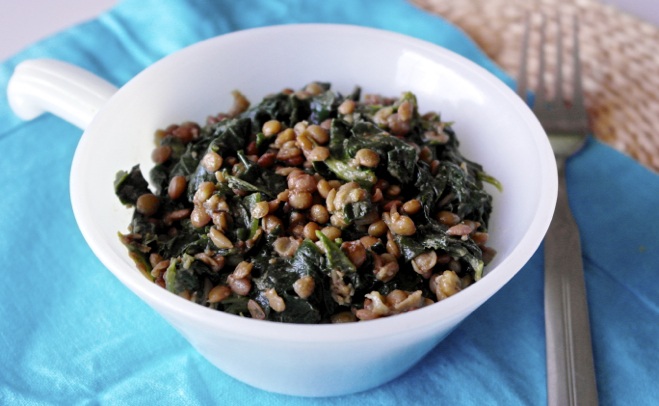 This is another one, like the hummous that's so much faster and easier than you'd think.
And it requires only five ingredients:
1) warm the lentils in a pan, gently
2) once softened, add two big handfuls of washed baby spinach leaves
3) warm until the spinach has wilted
4) add Himalayan salt, olive oil and a squeeze of lemon
5) EAT!
This one is unreal for filling you up, hitting you up with a big hit of protein and warming your belly. I love it, definitely one of my favourite alkaline snacks!
13. Hummous/Dip and Veggies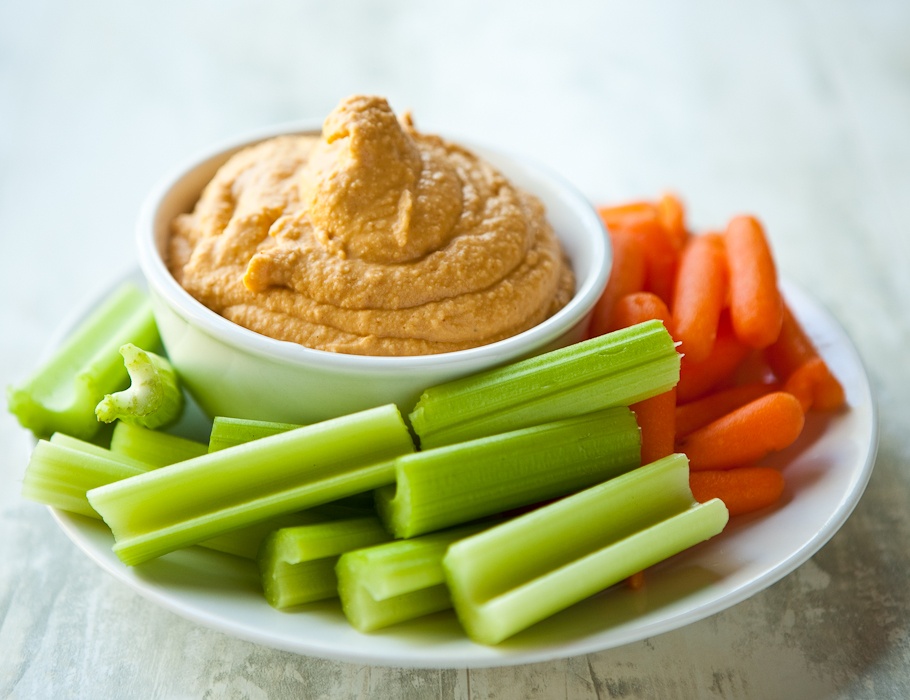 Ahhh, the classic. A little bit 80's but very much still a favourite of mine. I personally love to have:
– carrot
– celery
– cucumber
– capsicum/pepper
This is a great way to get a hit of all of the most alkaline foods in a raw format, and I'll usually enjoy this with a little toasted wrap and of course the dip. When it comes to the dip it's totally up to you, guacamole, hummous, tahini…it's all up to you.
Here are a couple of recipes to get you started with the dips:
Alkaline Dip Recipe 1: Courgette (Zucchini) Hummous
ALkaline Dip Recipe 2: Black Bean Hummous
Alkaline Dip Recipe 3: Smooth Avocado & Tofu Dip
Alkaline Dip Recipe 4: Baby Pea & Bean Spread
14. Dehydrated Foods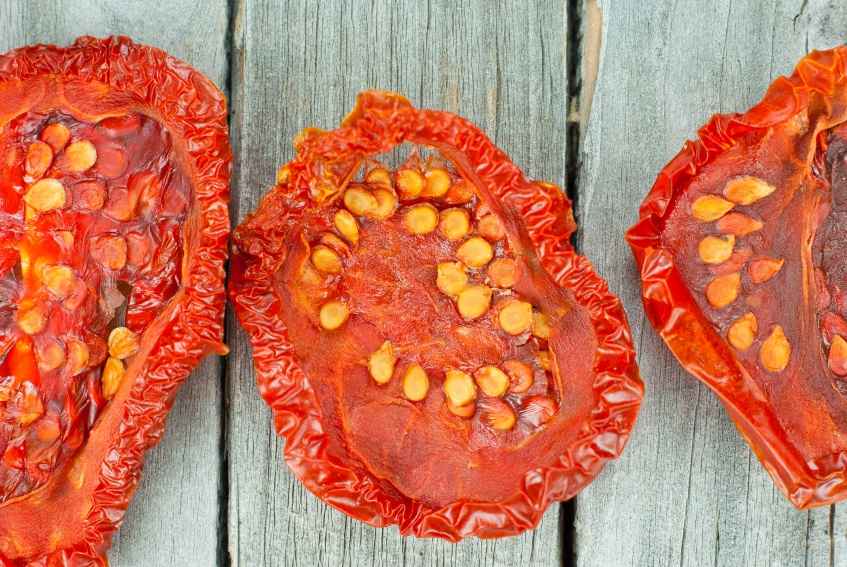 One of the best investments you could ever make would be a dehydrator. They are simply incredible and have transformed my life.
I know this requires an investment and that's why I've kept it back to number 13, but it's REALLY worth looking into. In terms of quick, simple alkaline snacks that you can bulk produce and keep stored for emergencies – this is a great one.
What is a dehydrator?
A dehydrator is a small electrical appliance for drying foods. A food dehydrator has an electric element for heat and a fan and vents for air circulation. Dehydrators are efficiently designed to dry foods fast at 140ºF.
The process of dehydrating slowly removes all of the moisture from fresh vegetables to make healthy, cheap, raw and long-lasting snacks and treats.
The dehydration process retains almost 100% of the nutritional content of the food, retains the alkalinity of fresh produce and actually inhibits the growth of microforms such as bacteria.
Fresh foods can sometimes contain simple yeasts, mold and bacteria; however, by inhibiting the water content their growth is considerably reduced.
Let me make this real for you: with a dehydrator you can dehydrate almost any vegetable to create healthy crisps/chips/snacks from sweet potato, parsnip, pumpkin, courgette (zucchini), beetroot, tomato, okra, nuts, seeds etc.
You get bite sized, highly nutritious alkaline snacks that can be carried around with you, are delicious and are always readily available.
I love to have a bag of dehydrated vegetable chips, sprinkled with a little Himalayan salt.
Just to reiterate, this thing has made staying alkaline and healthy SO much easier!
I personally recommend the Excalibur range.
These are widely recognised as being the best on the market.
15. And Finally…Fruit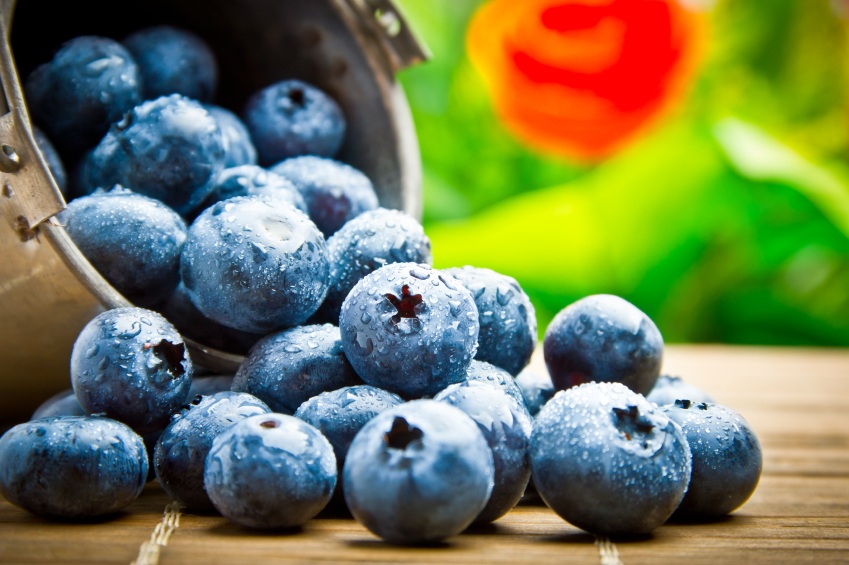 OK, so let's address the elephant in the room. We can't talk about alkaline snacks without mentioning one last food: fruit.
Look I'm not THAT anti-fruit, I just believe it has to be eaten very much in moderation.
While there are a number of alkaline fruits, most fruits (think pineapple, bananas, oranges, pears) contain a lot of fructose which is highly acid-forming.
Yes it contains nutrients too, and that's why I say it's still ok in moderation – but so many people become reliant on fruit and eat 5-6 pieces per day.
So my rules are:
– try to only eat in-season fruit – it will be less fermented/sugary
– stay away from bananas, pineapples and oranges – these are the highest in sugar
– try to stick to berries, grapefruit and watermelon and other fruits when they're in season
And stick to a MAX of one piece per day
…and never put fruits in your juices. Fructose without the accompanying fibre is catastrophic in the body, especially the liver.
Make These Alkaline Snacks Part of Your Everyday…
If you can ensure that you ALWAYS have access to at least 3-4 of these 14 alkaline snacks then you will never, ever crash – or it will be 10 times less likely anyway.
Pick the ones you like the best and that you KNOW you're going to stick to (in terms of shopping for and cooking) and then get a box of alkaline snack bars to have in your car/work bag/gym bag/office draw for REAL emergencies!
If you always have snacks you will be good to go!
Any questions? As ever – leave me a note in the comments box below.
Ross