This week Gareth Edwards, our Alkaline Diet Expert and highly qualified nutritionist, shows us how we can incorporate the alkaline diet into our daily breakfasts by preparing delicious alkaline juices and smoothies.
In the following article he outlines how an alkaline breakfast is a really powerful and effective way to normalise weight, increase our energy levels and set ourselves up for a clear headed and effective day.
Gareth Edward's Top Alkaline Breakfasts
If you've started to read and understand a bit about the alkaline diet, one of the first questions that might come into your head is "but what on earth am I going to eat for breakfast?"
All the things that we have been led to believe constitute a healthy breakfast (muesli, fruit, yoghurt, orange juice, porridge) seem to be slightly acidifying (click here for our full acid/alkaline food charts). These foods can all be quite addictive, and usually provide a "kick start" to the day. If your blood sugar levels are low on rising, orange (or other fruit) juice, starchy carbohydrate (grains), tea and coffee get you going. The trouble is that the effect is often short lived (10 o' clock cravings can set in) or the energy comes at a price (increased acidity, reduction in mineral levels, weight gain etc.).
If you really want to get great results by changing your diet (and lifestyle), an alkaline breakfast is a really powerful and effective way to normalise weight, increase your energy and set yourself up for a clear headed and effective day. Setting off "on the right foot" should make it easier to keep making alkalising choices for the rest of the day.
How to choose:
As for any other meal or snack during the day you want your food to be high in essential nutrients (vitamins, minerals, phyto-nutrients and fibre). It also needs to be low in sugar, with energy coming salt, healthy fats and a certain amount of (ideally sprouted) beans, pulses, seeds and grains. So where is all this leading …..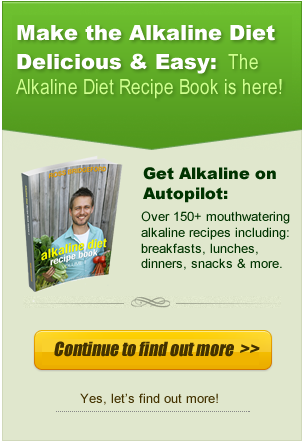 "Vegetables for breakfast. You've gotta be joking!"
Food choices can be a bit like religious faith or supporting a football team. Going against the cultural norm can seem a bit like changing family members. Maybe nobody you know eats vegetables for breakfast or you think your partner or work colleagues would look at you in a funny way if you did. On top of that you're going to need to "re-educate" your palate. That banana and oats mix might also be the one thing you look forward to in the morning, especially if you don't really like your job, where you live or your family set up.
Take it gently?:
Some people really thrive on periodically throwing their life in the washing machine, going in without a snorkel or aqua-lung. For others of us the reminder that Rome was not built in a day, is what's needed. I've seen patients achieve amazing results by making more alkaline choices, rather than seeing the whole exercise as a two position (on or off) switch.
Getting going:
For most people starting the day with a scoop of pHour salts in a glass of water followed by slices of avocado, cucumber, tomato and alfalfa sprouts on a slice of wholemeal bread, with some salt on top, is actually more or certainly equally as appealing as toast and jam.
If it's got to be cereal then a bowl of sprouted buckwheat with a little bit of unsweetened muesli, fresh grapefruit segments and some soya or home made almond milk is a nutritious, relatively low sugar, mix. Add some desiccated coconut and hemp oil to give you some more healthy calories.
Quick & Easy:
For most people these are the two major criteria surrounding breakfast choices. The quickest solution is to mix yourself a bottle of green vegetable powder, add your pH drops and, if you want something to give it some "bulk", add young pHorever hempH profi sprouted hemp powder. (Remember to keep the tub of hempH in the fridge after opening. It's a "living food".) Grab a handful of almonds to give yourself something to chew on.
If you're feeling keen you can make yourself a green juice or a vegetable based smoothy. Use cucumbers and celery to increase fluid content rather than apples or carrots. Put broccoli, avocados, dark green leafy veg, salt, almonds (ideally soaked for 6-8 hours), olive oil and lemon juice in a smoothy to give it flavour. (click here to view my green juice and green smoothie recipe as two suggestions). Chew a smoothie rather than gulp it down to aid digestion.
Tasty and filling:
If, like me, you like something to chew in the morning, a big fresh raw salad really is the way to go (even in winter). Use dark green leafy veg, and sprouted seeds, fennel and radishes along with avocados, fresh herbs and spices, nuts and olive oil, salt and lemon juice to create a taste explosion.
Variety is the spice of life:
So ….. vegetables for breakfast and ….. for lunch. Boredom avoidance is a potential challenge for the dedicated alkaliser. Getting creative with a diet high in low sugar plant foods is a skill that will yield optimal health and energy returns for every gram of effort expended learning about it. Buying a de-hydrator and making some tasty, yeast and sugar free crackers (click here to view our range of Biscru biscuits) to go with your salads is one way forward. You can also add some vegetarian cooked food such as lentil wedges, nut roast or falafel.
The morning after:
Remember that the early hours of the morning through to mid-day are when the liver is working at its hardest to de-toxify (and alkalise) your body. If you've had a big night out eating or drinking more acidic foods or drinks than you might have liked, help your body sort it out the next day. Super hydrating with greens and juices is the best way to re-balance your body. Hair of the dog or big fry up "cures" just make your body produce high quantities of buffering alkaline salts. You might get some short term relief from a temporary rise in pH, but it's not the best way to promote long term health and energy.
Action plan
Start experimenting with different ways to make your breakfast more alkaline. Add some slices of tomato and avocado to whatever you are eating.
Buy some tasty fresh vegetables and low sugar fruits (tomatoes, cucumbers, avocados, lemons, limes and grapefruits).
Buy the kit you need to make it happen: chopping board, sharp knife, bowls to make salads in, sprouting jars, juice machine, blender.
Buy the Energise Recipe book. There are loads of great breakfast recipes and drinks in there.
Decide you're worth making the effort for and ….. get on and do it!
Remember: you can now book in a 60-minute telephone consultation with Gareth for just £65. Gareth is an exceptional nutritionist and will be able to offer you specific advice and guidance and help you build a nutrition plan specific to your needs. Click here to book a telephone consultation with Gareth Edwards.
Disclaimer: Not intended to diagnose any condition, please seek help of nutritionally aware physician if experiencing health challenges.