I just got an awesome email.
It made my day. Why? Because it showed that my philosophy on healthy, alkaline living is coming through – you guys are all hearing me loud and clear!
Nutrient Dense Teaching!
We just wrapped up the Seven Day Cleanse on the Alkaline Weight Loss Course, and the response was amazing.
People have been losing weight, getting rid of skin conditions, digestive complaints, feeling lighter, more mental clarity and heaps more energy. I'm really proud of everyone who went through it and stuck with it.
They have certainly reaped the rewards…
But in the Weight Loss Forum – one poster said something that really stood out. I can't find the exact quote now but it was along the lines of:
My big breakthrough was the realisation that the body's cry for hunger is actually a cry for nutrients – when you feed it the nutrient-dense food on the cleanse (loads of smoothies, juices, soups etc) you don't feel hungry at all!
I LOVE THIS STATEMENT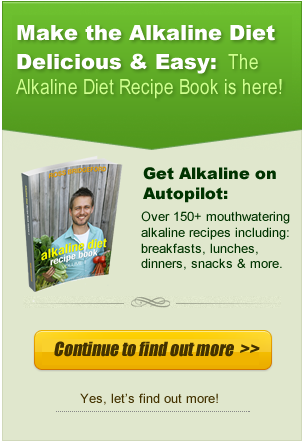 It's so true. It's something that is touched upon in the Hungry for Change movie (which I'll have news on in a few days) – the concept that unhealthy, fast foods, refined foods and highly manufactured foods are so nutrient poor, you end up hungry five minutes later. They're chemically designed to make you feel satisfied in the instant, but hungry minutes later.
Swap this for NUTRIENT-RICH, real, natural, live foods and you'll notice a HUGE difference. This is how an alkaline smoothie can keep you going for hours, whereas a mega-super-sized McD's will have you hungry again in 15 minutes.
Eating for Nutrients
This is one of the reasons why I went to the incredibly pain-staking lengths (talk about a labor of love!) of creating a nutrient panel and 'goals' panel for every single recipe in my latest Alkaline Diet Recipe Book (Vol. 2).
I wanted you to be able to SEE how nutrient dense this way of living is.
Check out this roughly put together collage of six nutrient panels from six of my recipes (click to enlarge)
INCREDIBLE!
[Note: you can grab a copy of my Alkaline Diet Recipe Book Vol. 2 here]


So please consider this – next time you are due to eat – think about the density of the nutrients. Think about whether this is going to cleanse you or clog you.
And think about hunger as your body's cry for goodness – not just your body's cry for food.
Until next time, let me know if you have any questions at all
Ross