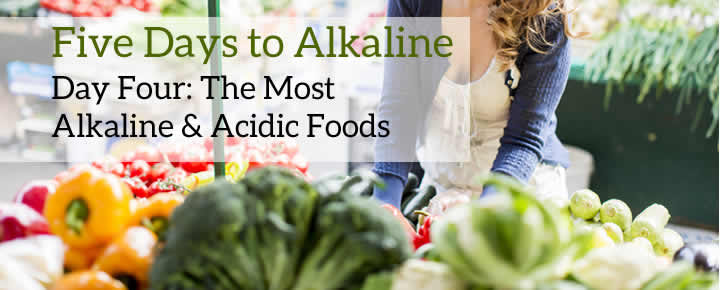 Day Four: The Most Alkaline & Acidic Foods (Super Important Lesson)
Welcome to DAY FOUR of my new free course, Five Days to Alkaline, a five-day video training course on the core of getting alkaline. It teaches you, not the basics, but the most important actions that will give you the biggest benefits, easily.
Live Energized and my way of teaching is all about making it as easy, enjoyable and achievable to get to your best ever health & body – and the energy you deserve!
In this lesson, Day Four, I teach you the most alkaline foods to eat and the most acidic foods to avoid.
In this lesson we cover:
Why adding more alkaline foods and NOT GIVING UP YOUR TREATS is the best way to get results
The most alkaline foods to focus your diet on
The most acidic foods to avoid
Which foods are best for reducing and removing inflammation
Which food we're told is GOOD for our bones, but actually WEAKENS them
How to get ALL SEVEN of the most alkaline foods in one meal!
I show you the actual, implementable steps you can start to do TODAY for big results.
Day FOUR Downloads:
➞ Guide: How to Quit Sugar: "Ten Ways to Banish Sugar & Turn Sugar Dips into Energy Hits!"
➞ Live Energized Alkaline Recipes Containing Spinach: Warm Red Pepper & Spinach Salad | Spinach, Garlic & Tofu Burgers | Alkaline Avo Power Smoothie | Alkaline Raw Soup
➞ Live Energized Alkaline Recipes Containing Kale: Chickpea & Kale Rolls with Tomato Salsa | Kale & Chickpea Mash | | Super Alkaline Kale Salad | Alkaline Chilli Spring Greens
➞Live Energized Recipes Containing Cucumber: Alkaline Cucumber & Watercress Soup | Alkaline Sushi | Antioxidant Super-Meal | Sweet Chunky Alkaline Shake | pH Boosting Protein Shake | Almond Gazpacho
➞ Live Energized Alkaline Recipes Containing Broccoli: Broccoli & Vegetable Coconut Curry | Spelt Pasta with Broccoli & ALmonds | Mixed Sesame Veggies | Gareth's Green Smoothie | Spicy Alkaline Summer Soup
➞ Live Energized Alkaline Recipes Containing Avocado: Alkaline Avocado Power Shake | Raw Avocado Soup | Smooth Avocado & Tofu Dip | Alkaline Quinoa Salad | Spicy Alkaline Summer Soup
➞ Live Energized Alkaline Diet Recipes Containing Celery: Vegetable Bean Soup | Bright & Breezy Salad | Alkaline Green Drink | Delicious Refresher Juice | Alkaline Chilli Greens
➞ Energise Alkaline Recipes Containing Bell Pepper: Sweet Chunky Alkaline Shake | Red Lentils with Bell Pepper | Stuffed Tomatoes with Pepper | Red Pepper & Tomato Soup | Antioxidant Rich Smoothie
Research, References & Scientific Literature
Research on Alkaline Foods:
Research on Spinach
Spinach as a powerful antioxidant: Manach C, Scalbert A, Morand C, Rémésy C, Jiménez L. Polyphenols: food sources and bioavailability. Am J Clin Nutr. 2004 May;79(5):727-47. 2004. PMID:15113710.
Spinach intake and ovarian cancer reduction: Gates MA, Tworoger SS, Hecht JL, De Vivo I, Rosner B, Hankinson SE. A prospective study of dietary flavonoid intake and incidence of epithelial ovarian cancer. Int J Cancer. 2007 Apr 30; [Epub ahead of print] 2007. PMID:17471564.
Spinach intake and breast cancer: M P Longnecker, P A Newcomb, R Mittendorf, E R Greenberg and W C Willett. Intake of carrots, spinach, and supplements containing vitamin A in relation to risk of breast cancer. 1997. American Association for Cancer Research.
Spinach and reversing motor and neuronal aging: James A. Joseph1, Barbara Shukitt-Hale1, Natalia A. Denisova1,Donna Bielinski1, Antonio Martin1, John J. McEwen1, and Paula C. Bickford. Reversals of Age-Related Declines in Neuronal Signal Transduction, Cognitive, and Motor Behavioral Deficits with Blueberry, Spinach, or Strawberry Dietary Supplementation. 1999. The Journal of Neuroscience.
Research on Kale:

Ambrosone CB, Tang L. Cruciferous vegetable intake and cancer prevention: role of nutrigenetics. Cancer Prev Res (Phila Pa). 2009 Apr;2(4):298-300. 2009.
Angeloni C, Leoncini E, Malaguti M, et al. Modulation of phase II enzymes by sulforaphane: implications for its cardioprotective potential. J Agric Food Chem. 2009 Jun 24;57(12):5615-22. 2009.
Bhattacharya A, Tang L, Li Y, et al. Inhibition of bladder cancer development by allyl isothiocyanate. Carcinogenesis. 2010 Feb;31(2):281-6. 2010
Higdon JV, Delage B, Williams DE, et al. Cruciferous Vegetables and Human Cancer Risk: Epidemiologic Evidence and Mechanistic Basis. Pharmacol Res. 2007 March; 55(3): 224-236. 2007.
Zhang Y. Allyl isothiocyanate as a cancer chemopreventive phytochemical. Mol Nutr Food Res. 2010 Jan;54(1):127-35. 2010.
Research on Cucumber:
Kumar D, Kumar S, Singh J, et al. Free Radical Scavenging and Analgesic Activities of Cucumis sativus L. Fruit Extract. J Young Pharm. 2010 Oct;2(4):365-8. 2010.
Milder IEJ, Arts ICW, van de Putte B et al. Lignan contents of Dutch plant foods: a database including lariciresinol, pinoresinol, secoisolariciresinol and matairesinol. Br J Nutr 2005, 93:393-402. 2005.
Rios JL, Recio MC, Escandell JM, et al. Inhibition of transcription factors by plant-derived compounds and their implications in inflammation and cancer. Curr Pharm Des. 2009;15(11):1212-37. Review. 2009.
Tang J, Meng X, Liu H et al. Antimicrobial activity of sphingolipids isolated from the stems of cucumber (Cucumis sativus L.). Molecules. 2010 Dec 15;15(12):9288-97. 2010.
Research on Broccoli:

Broccoli and Cancer Prevention: John W. Finley, Clement Ip, Donald J. Lisk, Cindy D. Davis, Korry J. Hintze, and Phil D. Whanger. Cancer-Protective Properties of High-Selenium Broccoli. Cancer-Protective Properties of High-Selenium Broccoli. 2001. American Chemical Society
Broccoli and Cardiovascular Disease: Lingyun Wu, M. Hossein Noyan Ashraf, Marina Facci, Rui Wang,Phyllis G. Paterson, Alison Ferrie, and Bernhard H. J. Juurlink. 2004. Dietary approach to attenuate oxidative stress, hypertension, and inflammation in the cardiovascular system. The Proceedings of the National Academy of Sciences
Broccoli and Cancer Prevention: Ambrosone CB, Tang L. Cruciferous vegetable intake and cancer prevention: role of nutrigenetics. Cancer Prev Res (Phila Pa). 2009 Apr;2(4):298-300. 2009.
Broccoli and Cancer Prevention: Clarke JD, Dashwood RH, Ho E. Multi-targeted prevention of cancer by sulforaphane. Cancer Lett. 2008 Oct
Chemo-protection and Broccoli: Konsue N, Ioannides C. Modulation of carcinogen-metabolising cytochromes P450 in human liver by the chemopreventive phytochemical phenethyl isothiocyanate, a constituent of cruciferous vegetables. Toxicology. 2010 Feb 9;268(3):184-90. 2010.
Research on Avocado:

Avocado & Adult Health: Fulgoni V, Dreher M, Davenport A. Avocado consumption associated with better nutrient intake and better health indices in U.S. adults (19+ years): NHANES 2001-2006. Abstract #8514. Experimental Biology, Anaheim, CA. April 28, 2010. 2010.
Avocado & Cancer: Ding H, Han C, Guo D et al. Selective induction of apoptosis of human oral cancer cell lines by avocado extracts via a ROS-mediated mechanism. Nutr Cancer. 2009;61(3):348-56. 2009.
Avocado & Cancer: Ding H, Chin YW, Kinghorn AD et al. Chemopreventive characteristics of avocado fruit. Semin Cancer Biol. 2007 May 17; [Epub ahead of print] 2007. 2007.
Avocado & Inflammation: Rosenblat G, Meretski S, Segal J et al. Polyhydroxylated fatty alcohols derived from avocado suppress inflammatory response and provide non-sunscreen protection against UV-induced damage in skin cells. Arch Dermatol Res. 2010 Oct 27. [Epub ahead of print]. 2010.
Research on Celery:
Celery and Hypertension: Kurl S, Tuomainen TP, Laukkanen JA et al. Plasma vitamin C modifies the association between hypertension and risk of stroke. Stroke 2002 Jun;33(6):1568-73 2002.
Celery & Cholesterol: Tsi D, Tan BK. The mechanism underlying the hypocholesterolaemic activity of aqueous celery extract, its butanol and aqueous fractions in genetically hypercholesterolaemic RICO rats. Life Sci 2000 Jan 14;66(8):755-67 2000.
Research on Bell Pepper:
Pepper and Dementia: Devore EE, Grodstein F, van Rooij FJA et al. Dietary antioxidants and long-term risk of dementia. Arch Neurol. 2010 July; 67(7): 819-825. 2010.
Peppers and Antioxidants: O'Sullivan L, Jiwan MA, Daly T, O'Brien NM et al. Bioaccessibility, uptake, and transport of carotenoids from peppers (Capsicum spp.) using the coupled in vitro digestion and human intestinal Caco-2 cell model. J Agric Food Chem. 2010 May 12;58(9):5374-9. 2010.
Pepper and Cancer: Ambrosini GL, de Klerk NH, Fritschi L et al. Fruit, vegetable, vitamin A intakes, and prostate cancer risk. Prostate Cancer Prostatic Dis. 2008;11(1):61-6. 2008.
Research on ACID Foods
Research on Soda
Caroline M. Apovian, MD. 2004. Sugar-Sweetened Soft Drinks, Obesity, and Type 2 Diabetes. JAMA. 2004;292(8):978-979. doi:10.1001/jama.292.8.978.
Matthias B. Schulze, DrPH; JoAnn E. Manson, MD; David S. Ludwig, MD; Graham A. Colditz, MD; Meir J. Stampfer, MD; Walter C. Willett, MD; Frank B. Hu, MD. 2004. Sugar-Sweetened Beverages, Weight Gain, and Incidence of Type 2 Diabetes in Young and Middle-Aged Women. JAMA. 2004;292(8):927-934. doi:10.1001/jama.292.8.927.
Hyon K Choi,Soft drinks, fructose consumption, and the risk of gout in men: prospective cohort study. 2008. British Journal of Medicine. BMJ 2008; 336 doi: http://dx.doi.org/10.1136/bmj.39449.819271.BE (Published 7 February 2008)
J James, D Kerr. Prevention of childhood obesity by reducing soft drinks. 2005. International Journal of Obesity (2005) 29, S54–S57. doi:10.1038/sj.ijo.0803062
Malik, SV et al. Sugar-Sweetened Beverages and Risk of Metabolic Syndrome and Type 2 Diabetes. 2010. Diabetes Care November 2010vol. 33 no. 11 2477-2483
Research on Ice Cream/Dairy
Soedamah-Muthu SS, Ding EL, et al; Milk and dairy consumption and incidence of cardiovascular diseases and all-cause mortality; American Journal of Clinical Nutrition, 2011 Vol 93 no 1, 158-171
Adebamowo, CA, D Spiegelman, CS Berkey, et al. Milk consumption and acne in adolescent girls. Dermotol Online J. 2006;12:1
Lanou AJ, Berkow SE, Barnard ND. Calcium, dairy products, and bone health in children and young adults: a reevaluation of the evidence. Pediatrics. 2005;115:736-743.
Feskanich D, Willett WC, Colditz GA. Calcium, vitamin D, milk consumption, and hip fractures: a prospective study among postmenopausal women. Am J Clin Nutr. 2003;77:504-511.
Research on Sugar
Bostick M et al. Sugar, meat, and fat intake, and non-dietary risk factors for colon cancer incidence in Iowa women (United States). Cancer Causes & Control January 1994, Volume 5, Issue 1, pp 38-52
Michaud DS et al. Dietary Sugar, Glycemic Load, and Pancreatic Cancer Risk in a Prospective Study. JNCI J Natl Cancer Inst (2002) 94 (17): 1293-1300.
Slattery ML et al. Dietary sugar and colon cancer. Cancer Epidemiol Biomarkers Prev September 1997 6; 677
Meyer KA et al. Carbohydrates, dietary fiber, and incident type 2 diabetes in older women. Am J Clin Nutr April 2000 vol. 71 no. 4 921-930
Research on Trans Fats
Mozaffarian D, Katan M et al. Trans Fatty Acids and Cardiovascular Disease. N Engl J Med 2006; 354:1601-1613 April 13, 2006
Erkkilä A, de Mello VD, Risérus U, Laaksonen DE. Dietary fatty acids and cardiovascular disease: an epidemiological approach.Prog Lipid Res. 2008 May;47(3):172-87.
Mensink R, Katan M. Effect of Dietary trans Fatty Acids on High-Density and Low-Density Lipoprotein Cholesterol Levels in Healthy Subjects. N Engl J Med 1990; 323:439-445 August 16, 1990
Salmerón J et al. Dietary fat intake and risk of type 2 diabetes in women. Am J Clin Nutr June 2001 vol. 73 no. 6 1019-1026
Van Dam M R et al. Dietary Fat and Meat Intake in Relation to Risk of Type 2 Diabetes in Men. Diabetes Care March 2002 vol. 25 no. 3 417-424
Research on MSG & Artificial Sweeteners
Ka He, Liancheng Zhao, et al. Association of Monosodium Glutamate Intake With Overweight in Chinese Adults: The INTERMAP Study. Obesity, 2008; Volume 16, Number 8, pp. 1875–1880.
Olney, JW, Ho OL. Brain Damage in Infant Mice following Oral Intake of Glutamate, Aspartate or Cysteine. Nature, August 8, 1970; Volume 227, pp. 609 – 611.
Redding T.W. · Schally A.V. · Arimura A. · Wakabayashi I. Effect of Monosodium Glutamate on Some Endocrine Functions
Nakanishi Y et al. Monosodium glutamate (MSG): A villain and promoter of liver inflammation and dysplasia. Journal of Autoimmunity Volume 30, Issues 1–2, February–March 2008, Pages 42–50
Maher T J , Wurtman R J . Possible neurologic effects of aspartame, a widely used food additive. Environ Health Perspect. 1987 November; 75: 53–57.
Mead N. Sour Finding on Popular Sweetener: Increased Cancer Incidence Associated with Low-Dose Aspartame Intake. Environ Health Perspect. 2006 March; 114(3): A176.
Vartanian LR et al. Effects of Soft Drink Consumption on Nutrition and Health: A Systematic Review and Meta-Analysis. American Journal of Public Health: April 2007, Vol. 97, No. 4, pp. 667-675.
Yang Q. Gain weight by "going diet?" Artificial sweeteners and the neurobiology of sugar cravings. Yale J Biol Med. 2010 June; 83(2): 101–108.